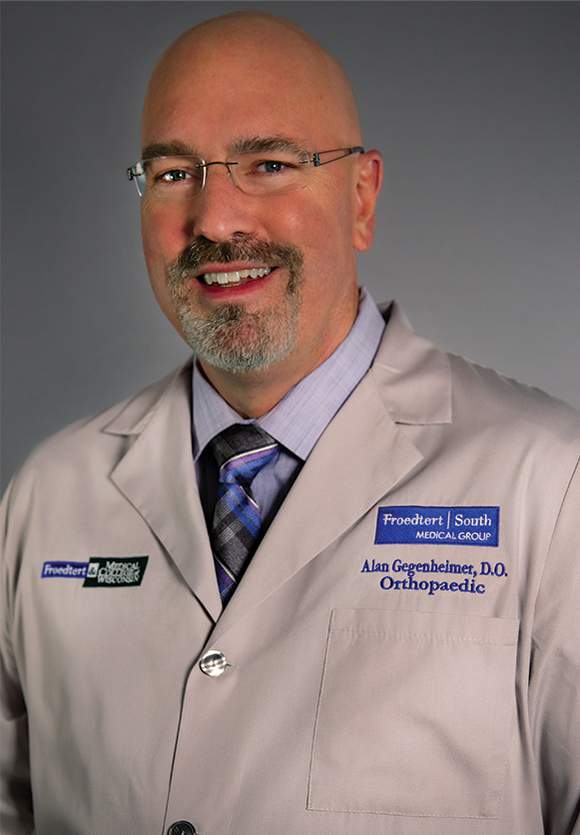 "The pain was agonizing," recalled Denise Karczewski of Antioch, Illinois. She'd lived with an ache in her right knee for a decade. But two years ago, the pain was too much to bear. "It was horrible," she said. "I was taking five or six over-the-counter pain pills a day. I couldn't do anything, absolutely nothing. I had given up the things I love to do - walking outside and gardening."
That's when Denise found Dr. Alan Gegenheimer, an orthopedic surgeon with Froedtert South Orthopedic & Spine Clinic. With more than 25 years of experience in general orthopedic surgery, Dr. Gegenheimer is also a sports medicine physician for Tremper and Indian Trail high schools. His specialty is an advanced, innovative approach to replacing shoulder, hip, and knee joints.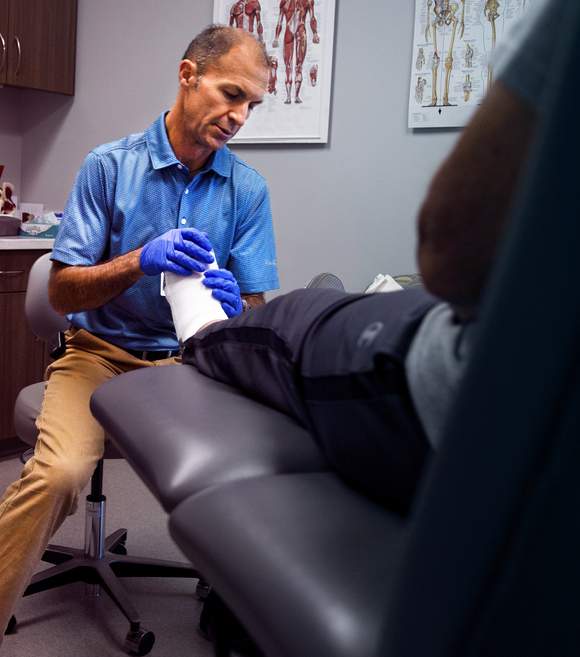 ABSOLUTELY AMAZING RESULTS
Following an initial exam and x-rays of Denise's knee, Dr. Gegenheimer discussed treatment options with her. "He didn't tell me what to do," Denise said. "He was straightforward, no nonsense. He gave me my options and let me decide. I really appreciated that."
Dr. Gegenheimer completed a partial replacement of Denise's right knee in 2017, and then performed the same procedure on her left knee last year. "It's been amazing, absolutely amazing," Denise said. "I do Tai Chi and yoga. I exercise daily. I walk on the treadmill. I walk my dog when the weather is good. I do everything I did before."
"I try to take a thoughtful approach," Dr. Gegenheimer said. "I'm always looking at what the patient needs. Getting it right the first time. Fixing the problem. Getting patients back to what they want to do as soon as possible."
HELP CLOSER TO HOME
Dr. Gegenheimer is one of four orthopedic specialists with Froedtert South Orthopedic & Spine Clinic. "We have doctors who are fellowship-trained in diagnosing and treating problems with hips and knees, elbows and shoulders, and spines," Dr. Gegenheimer said. "We can handle just about anything. We have an experienced, seasoned group of surgeons."
In 2019, retired Navy veteran Robert Saenz of Kenosha was struggling with a bad knee, and looking for help closer to home. "I had been driving to Milwaukee for checkups," Robert said. "That was kind of far from Kenosha, and with the freeway construction it was really frustrating."
But so was dealing with a painful knee. "It would swell up, and I was walking with a lot of pain," Robert remembered. "I had to be careful doing anything. It was hard to bend over and get up from sitting. I had to make adjustments."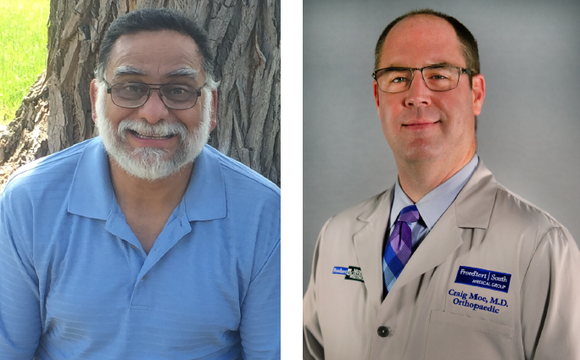 WHAT WORKS
That's when Robert made a decision, "to have my knee replaced here in Kenosha," he said. Soon after, Robert found Dr. Craig Moe with Froedtert South Orthopedic & Spine Clinic – an experienced specialist in hip and knee replacements. "I've been performing hip and knee surgeries for more than 20 years," Dr. Moe said. "I've worked on many complex cases. I know what works for patients."
"Dr. Moe is very, very knowledgeable," Robert said. "He knows what he's doing. Plus, he's very down-to-earth. He knew what I was going through, and helped ease my anxiety. He explained everything very clearly and answered my questions. He made sure I understood."
In July of last year, Dr. Moe performed a full replacement of Robert's knee. "The surgery went well," Robert said. "Dr. Moe inserted an extension into the bone to make it stronger. My recovery is going well. Actually, right now I'm walking around with some ankle weights just to help build the muscles. The whole knee feels really good. Having the surgery done in Kenosha was a great decision."
"With every one of my patients I'm doing what I think will not only solve their problem, but will last the rest of their lives," Dr. Moe said. "My goal is always to help people get back to their normal lives and the things they like to do as quickly and permanently as possible."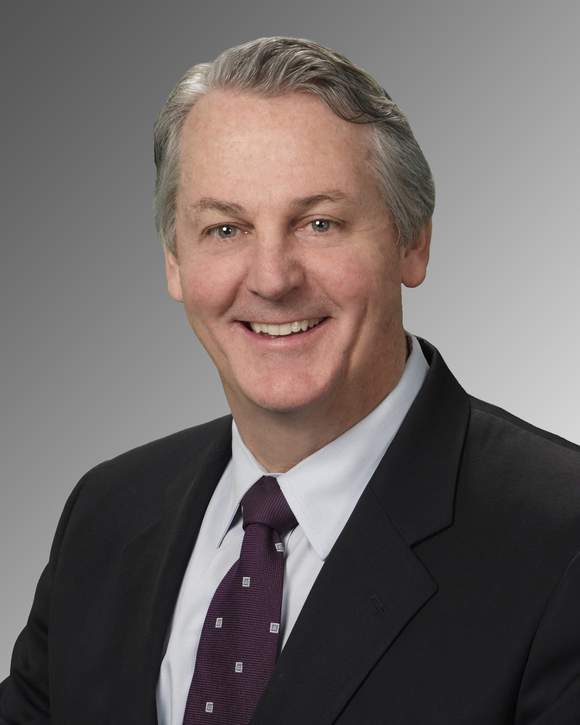 SIDELINED BY PAIN
John Crawford is a long-time resident and orthodontist in Kenosha. A swimmer, basketball player, and cross country runner in high school, Crawford continued to shoot hoops and play tennis as an adult. Until three years ago, when he was sidelined by a painful hip.
"I couldn't bend down, because I couldn't flex enough," John remembered. "I had trouble pulling on a sock, tying my shoe, or putting on a boot. I couldn't sleep well, and people were saying, 'You're limping!' I had developed a limp to avoid putting pressure on my hip and I didn't even realize it."
In early 2018, John turned to Dr. James Shapiro. For more than 30 years, Dr. Shapiro has been an orthopedic specialist, a Kenosha resident, and a sports medicine physician on the sidelines at Tremper High School football games.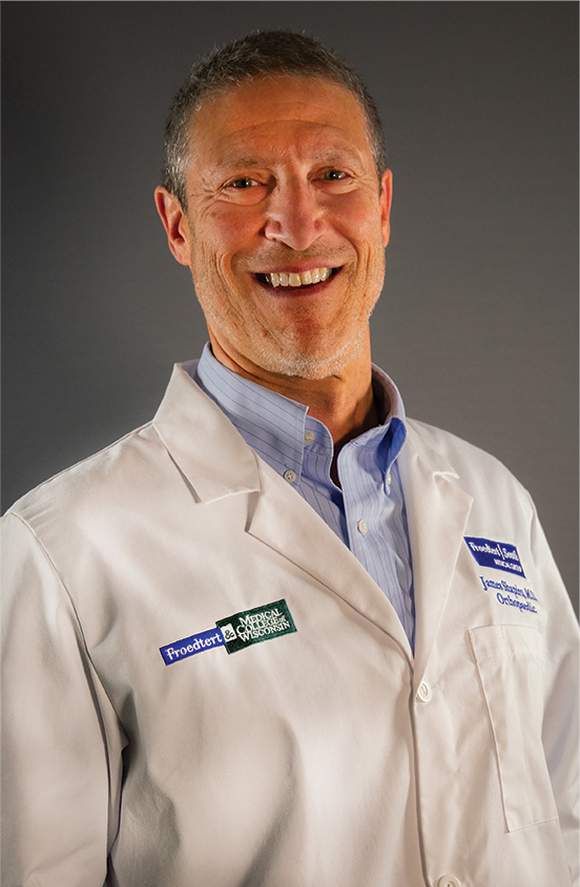 A RESOURCE AND FRIEND
"My approach is to be an information resource and friend for my patients," said Dr. Shapiro. "It's my job to figure out what's causing a patient's problem, and then fix it. My goal is to improve each patient's quality of life. What I do is give options, and then the patient gets to choose the best course of action."
For John, that course of action was a new hip, and Dr. Shapiro performed the surgery. "I was in the hospital for only 24 hours," John remembered. "I was actually in less pain than before I went in for the surgery, and I didn't take any pain medication after I left the hospital."
John's recovery was rapid. "A week later I could walk without crutches," John said. "I took just two weeks off work. It was faster than I thought it would be. I'm back to where I was before my hip started hurting. I don't even think about it anymore. It's like I forget I had it done, which is really, really good."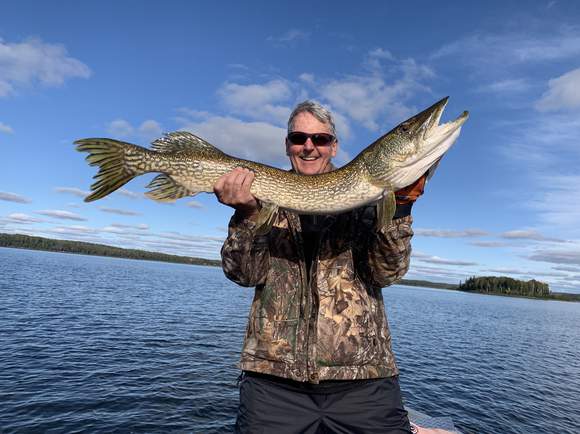 "We're all focused on providing quality, compassionate, and timely care," Dr. Shapiro said. "A patient who hurts doesn't want to wait a month to be seen. If they're from the Kenosha area, why travel to a clinic somewhere else? It's much easier to get an appointment here, and it's much easier on their family. The quality of care is equally as good, and often better. And, realistically, when someone has a problem, we're right here close to home."
Back to Article List