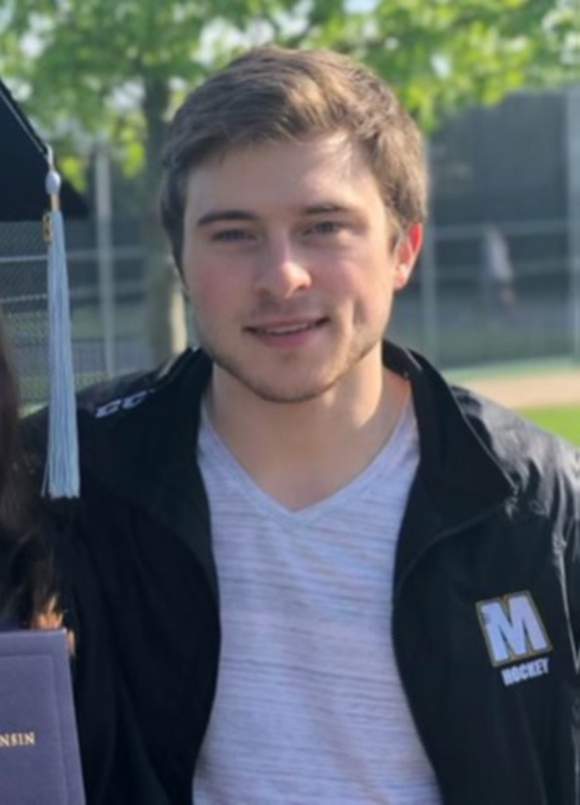 "Something was off." That's how 23-year-old Kenosha native Mike Vasarella remembered 2020 began for him. "I wasn't having any good days," Mike said. First it was back pain, then pressure in his head. Dizziness and fainting were soon followed by a swollen neck and face. In March, Mike went to the emergency department at Froedtert Pleasant Prairie Hospital. "When they did a CT scan of my chest," Mike said, "they found a mass, and that's when cancer doctors started showing up."
Dr. Tarig Ahmed, a hematologist and medical oncologist with the Froedtert South Medical Group, was one of them. "I still remember when I got the call," Dr. Ahmed recalled. "Mike was really scared."
Mike's scan revealed a tumor growing behind his breastbone. "Naturally, the first thing you think with someone that young," said Dr. Ahmed, "is whether they're going to make it or not." Fortunately for Mike the answer was yes – thanks to tailored access to leading edge cancer care right here, close to home.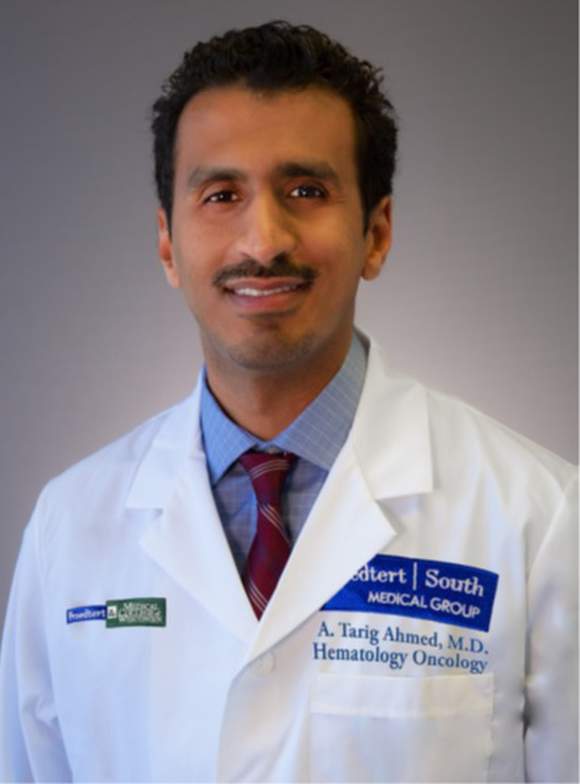 BACK TO NORMAL
Mike's tumor had almost completely blocked a major blood vessel into his heart, so his treatment began when an interventional radiologist inserted a stent to keep the vein open. Then, after consulting with colleagues at Froedtert South and with the Froedtert & the Medical College of Wisconsin Cancer Network, Dr. Ahmed put Mike on an aggressive chemotherapy program tailored to his specific cancer: four cycles of treatment in the hospital for one week, followed by two weeks at home to recover.
"Every day of my chemotherapy," Mike recalled, "Dr. Ahmed came in to check on me. He was my favorite visitor. Even if I wasn't feeling so great, he came with a smile and encouraged me to keep going."
After chemotherapy, a Froedtert & MCW cardiothoracic surgeon, who is a specialist in cancerous tumors on the chest wall, removed what was left of Mike's tumor. "They were able to do the whole surgery robotically," Mike said. "All I had were tiny cuts on the side of my chest." Now, Mike is back in college completing an accounting degree and playing hockey with friends. "Everything feels back to normal for me," Mike said, "It seems like a very positive outlook for me."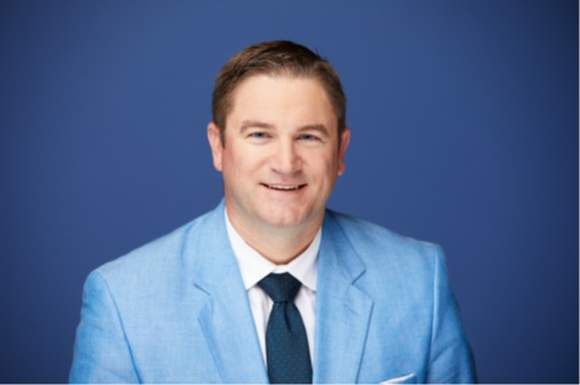 BEST OF BOTH WORLDS
"It's all about tailored access," said Brian Portilia, Director of Cancer Services at Froedtert South. "Our doctors have direct access to academic cancer medicine through the Froedtert & MCW Cancer Network. They're presenting our patients' cases to multi-disciplinary tumor boards there so they can be reviewed from different perspectives by different specialists. That means our expert cancer physicians here are also part of an even bigger team of cancer specialists."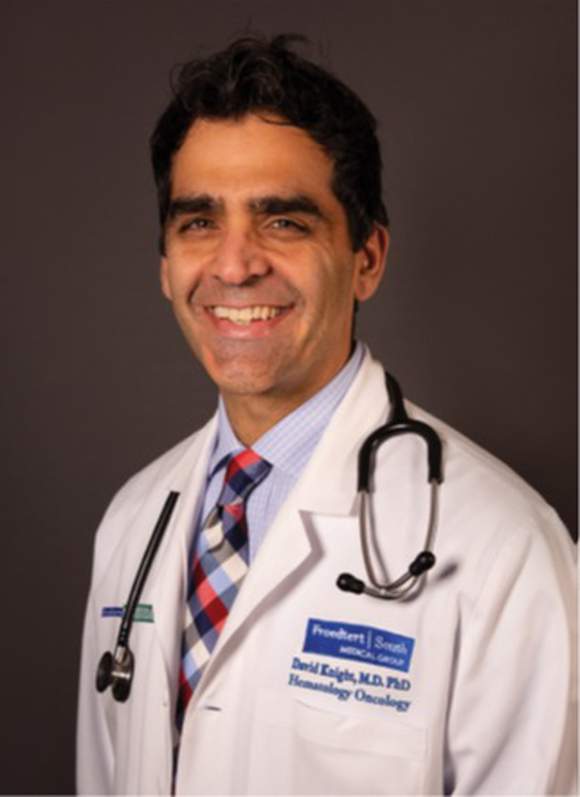 "When we have questions, or we need greater expertise," said Dr. David Knight, hematologist and medical oncologist with the Froedtert South Medical Group, "or we need a highly specialized surgeon for a unique tumor, we can be in touch with those experts in a matter of hours, sometimes minutes."
"The whole idea is to review a patient's case and make a decision as a group," said Dr. Ahmed. "That's how we end up with the best treatment option for each patient and their specific situation."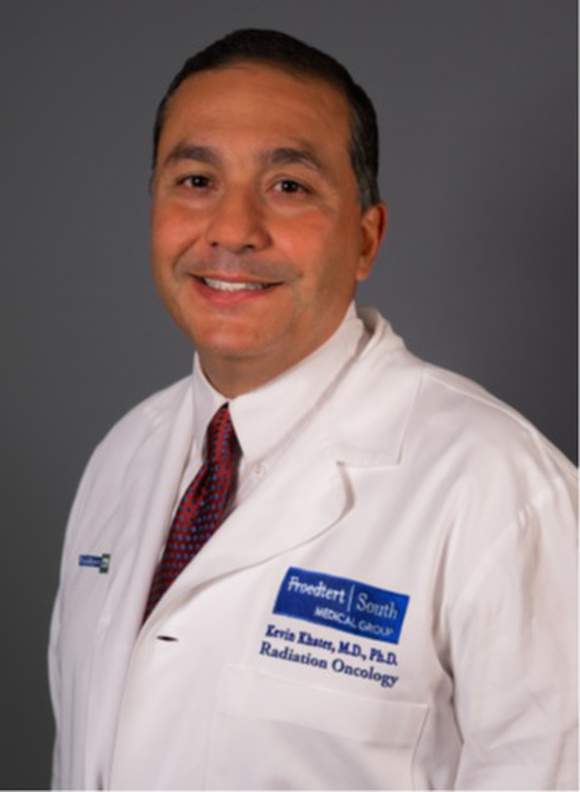 "When you bring a group of specialists to the table, they're all going to add their own expertise as we develop a customized treatment plan for each patient," said Dr. Kevin Khater, radiation oncologist with the Froedtert South Medical Group. "That improves quality of care by leaps and bounds."
"It's literally the best of both worlds for patients," Portilia added. "We provide leading edge cancer care right here close to home, and because of our relationship with the Froedtert & MCW Cancer Network, our patients have access to the extraordinary specialists and treatment options that typically only academic health networks can offer."
HOW WE CARE FOR CANCER PATIENTS
"I was scared," recalled 61-year-old Linda Foster, who lives in Warren, Arkansas, but was born and raised in Kenosha. In February, 2020, Linda underwent surgery in Arkansas for colon cancer, but the surgical incision wouldn't heal, preventing her from receiving essential chemotherapy treatments. "I was at my rope's end," Linda said. "I was thinking, 'Oh man, I'm going to die.' Until I met with Dr. Knight."
Linda knew of Dr. Knight through her family. She reached out to see if he would see her, even though she lived nearly 800 miles away.
"From the start, we knew there would be obstacles," Dr. Knight said, "but we also knew that we were going to help Linda regardless of the problems she was facing. That's our philosophy and it's why our opportunities to help people with cancer are growing dramatically. People know that this is how we care for cancer patients."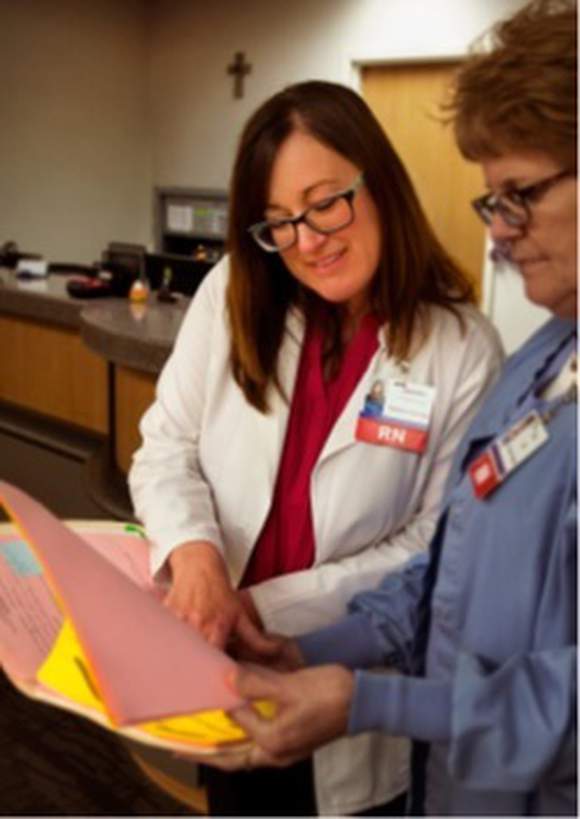 SUPPORTING PATIENTS AND FAMILIES
Overcoming patients' obstacles is the job of Jen Hickey, cancer nurse navigator. "When a new cancer patient is coming to us," Jen said, "I'm their contact person. If they're having issues getting here, or with insurance, any barriers, our team works to address those right away." Jen is there for each patient, each step of the way, getting answers to their questions, helping schedule appointments, and more. "I help support patients and their families throughout their cancer care," Jen said, "and that starts with timely access to physicians."
"We operate on the simple belief that if you have cancer, you should be able to see a doctor as soon as possible," Dr. Knight said. "We take great pride in evaluating patients quickly," Dr. Khater added, "so we can start developing a treatment plan right away."
"On some occasions, I've even been able to see patients the same day they called," Dr. Ahmed said. "That relieves some of their stress, and that's very important to us." "Other institutions might have told Linda they couldn't or wouldn't help her," Dr. Knight said. "But because Jen is so dedicated and good at what she does, she got Linda up here so we could provide the care she desperately needed."
LIKE I WAS FAMILY
"When I got to Froedtert South, the doctors and nurses were amazing," Linda said. "What good people they are. Jen took my case on like I was family. She cared about me. She was wonderful." Today, Linda is back at home, with her wound healed, her chemotherapy complete, and her heart filled with new hope.
Linda Foster and Mike Vasarella, like so many other cancer patients, are the beneficiaries of tailored access to leading edge cancer care at Froedtert South, close to home, and delivered by compassionate people connected to the community they serve.
"Every time I see Mike walking into our clinic, feeling great," Dr. Ahmed said, "it makes my day. It's what keeps me going, for sure."
Back to Article List