At just the age of 45. That was when Esau Patterson, Jr. of Kenosha realized the time had come.
"I had high blood pressure and type 2 diabetes," Esau recalled. "I had a history of heart disease in my family - my father and grandfather died in their fifties, and they were not overweight men."
But "overweight" described Esau to a tee. At 370 pounds, he struggled just to move around. "I would have trouble walking up and down stairs. I had a lot of joint pain. When I walked it was more like a wobble."
Then Esau learned he wasn't the only family member with a health issue. "My wife was diagnosed with breast cancer. We have four kids - one of them an active four-year-old. That really scared us into taking action, since someone has to be here for them."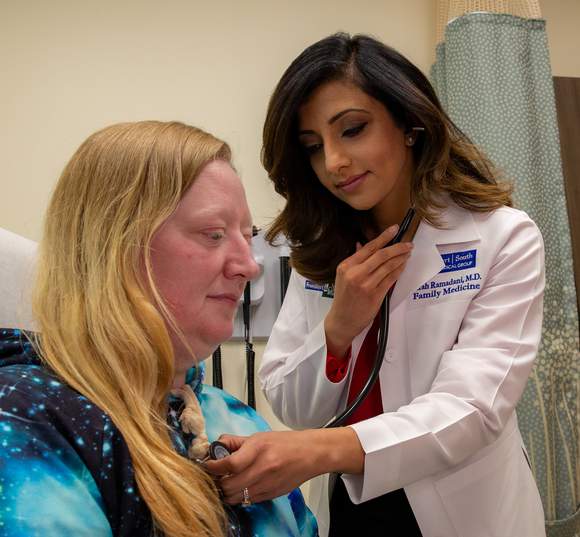 MORE GAINING THAN LOSING
In Burlington, 49-year-old Jeanette Freerksen was also fighting a losing battle with weight. She had reached 388 pounds. "I could barely walk," Jeanette said. "I didn't want to do anything because I hurt so badly." Like Esau, dieting produced only temporary results for Jeanette. "It's always been like a boomerang thing. I lose a little bit, and then I gain a little bit with more gaining than losing."
Fortunately for both Jeanette and Esau, help was close to home, right here in Kenosha County.
HELPING PATIENTS ACHIEVE THEIR GOALS
Dr. Majed Jandali is a surgeon on the Froedtert South Medical Staff who specializes in minimally invasive roboticassisted surgery. Dr. Sarah Ramadani is a primary care physician, also on the Froedtert South Medical Staff, who is certified in obesity medicine. Together – working alongside nurses, physical therapists, dieticians, and staff – they offer hope to patients who are dangerously overweight.
Dr. Jandali has performed hundreds of bariatric weight loss surgeries over the past twenty years. "I tell patients that this surgery is a tool that, with motivation, can help them achieve their goals," Dr. Jandali said. "For people who are 100 pounds or more over their ideal weight, those extra pounds alone can shorten their longevity," Dr. Jandali said. "These patients are candidates for bariatric surgery." So are patients around 80 pounds overweight, "if they also have conditions such as diabetes, high blood pressure, or sleep apnea," Dr. Jandali added.
A MULTI-DISCIPLINARY APPROACH
But not all patients need surgery to lose weight. "Many factors contribute to weight problems - we can say that with 100-percent certainty," Dr. Ramadani said. "So, initially, we do a thorough history and physical exam. We want to know why a patient is obese. Weight management clinics might offer some short term weight loss, but, they often fail to take into account patients' other health issues such as thyroid problems, stress, lack of sleep, and arthritis."
"That's what separates us from these programs," Dr. Ramadani added. "In addition to diet and exercise, we're going to address those underlying issues. We have a lot of great resources here to help us take a multi-disciplinary approach to weight loss."
"It's also important for patients to know that with surgical weight loss, you don't come to see me today, and then I schedule your surgery for next week," Dr. Jandali said. "We work with the average patient for about six months before performing surgery." "We usually want a patient to lose some weight before surgery," Dr. Ramadani said, "because most of the time they're going to have a better outcome." "Typically, this is an insurance company requirement, as well," Dr. Jandali added.
JEANETTE'S STORY: "THEY REALLY MOTIVATED ME"
After her initial evaluation with Dr. Jandali, Jeanette Freerksen worked with Dr. Ramadani on a weight loss program that included aquatic physical therapy in a pool at the Froedtert Somers Clinic. "It's low-impact, so it's easier for me, because I have problems with my back and knees," Jeannette said. "They have treadmills in the water. Now that I've lost some weight, I can almost run in the water and it doesn't hurt at all."
Working with Dr. Ramadani, Jeanette lost 70 pounds. "Dr. Ramadani is very sweet and very kind," Jeanette said. "When you're trying to lose weight, you're afraid that someone is going to judge you. She doesn't. She and her nurses really motivated me."
Dr. Jandali performed Jeanette's bariatric surgery last October. "I've lost about 120 pounds now," she said. "Dr. Jandali's goal for me is to lose 180 pounds, so I'm good with that. I definitely feel like I can do this."
Losing weight has enabled Jeanette to get out into the community again with an adult son who is mildly autistic "He would like some friends, but he's shy and introverted and afraid of people," Jeanette said. "So losing weight has helped me get him out there, so that he can talk to people. It's a way to make me feel better so I can help him."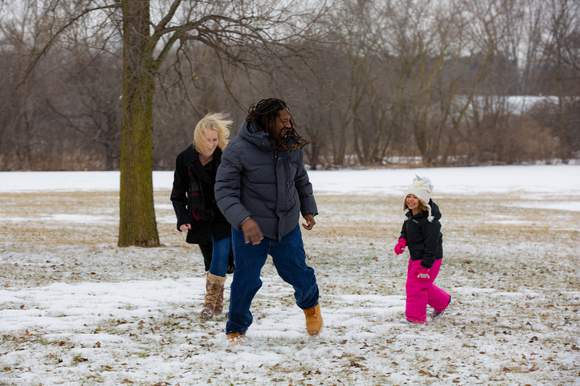 ESAU'S STORY: "BACK TO WORK IN A WEEK"
Dr. Jandali performed bariatric surgery on Esau Patterson. "These are all minimally invasive, robotic assisted surgeries," Dr. Jandali said, "which has made it much more tolerable for patients."
"They had me up and walking that night in the hospital, and I was back to work one week later," said Esau, who has lost 130 pounds. "As of October, there are no signs of diabetes, and no high blood pressure. With all the weight loss, I'm not taking medications for any of that anymore. I think I've added many more years to my life with this surgery."
"My daughter is now four," Esau said, "and I have the energy to try to keep up with her. I'm not out of breath after a couple steps."
HELPING THE WHOLE FAMILY
"Their lives are changed dramatically," Dr. Jandali said. "They're confident in themselves again. They can walk longer and faster. Their social life is better. That's what it's all about for me," he said, "making people's lives better."
"It makes me feel very happy and satisfied," Dr. Ramadani said, "because I'm not only helping that patient, I'm helping their whole family."
"It's not easy," Esau admitted, "but if you're really ready to change your life, this is a good way to go about it."
"I would tell people to just do it," Jeanette added. "It's totally, completely worth it to change your life."
Back to Article List