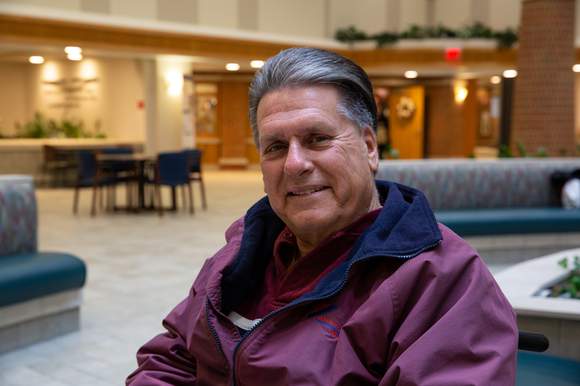 Advanced treatment for stubborn wounds
For Joe Kujawinski of Burlington it began in the 1980's with surgery on his right ankle. "I had a long, chronic problem with the incision," Joe recalled. "It would close up for a while then it would open up again." Joe tried medications, skin grafts, and other treatments. "It would start healing," he said, "but then the healing would just stop."
Joe had to change dressings on the wound as often as three times a day. Swelling kept him off his feet. And he had to make frequent doctor visits. "It really curtailed my activities," Joe said. "I missed a lot of work."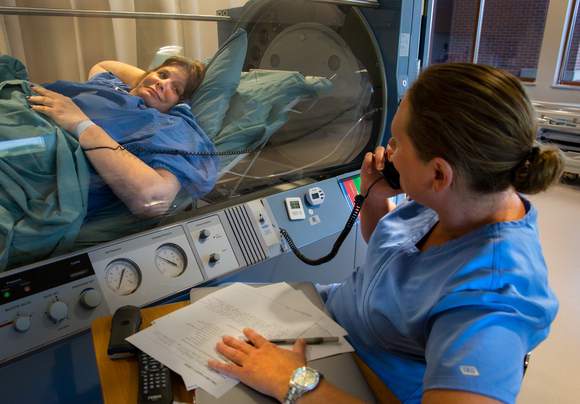 A PROMISING TREATMENT
Early last year, light appeared at the end of Joe's tunnel when he learned about a promising treatment for hard-to-heal wounds at the Hyperbaric Wound Care Clinic at Froedtert Pleasant Prairie Hospital.
"We see many patients who have had a skin graft to help a surgical incision heal, but that healing just isn't happening," said Dr. Robert Zick, who, along with Dr. James Kambol, are physicians on the Froedtert South Medical Staff. Dr. Zick and Dr. Kambol are specialists in both emergency medicine and wound care. "We have all the resources here to provide a complete solution for patients with stubborn wounds," Dr. Kambol said.
Their resources include two hyperbaric chambers. "The hyperbaric chamber works by oxygenating plasma in a patient's blood," Dr. Zick said. "So even if blood flow is restricted due to, for example, diabetes, we can still get oxygen to a wound and help it heal."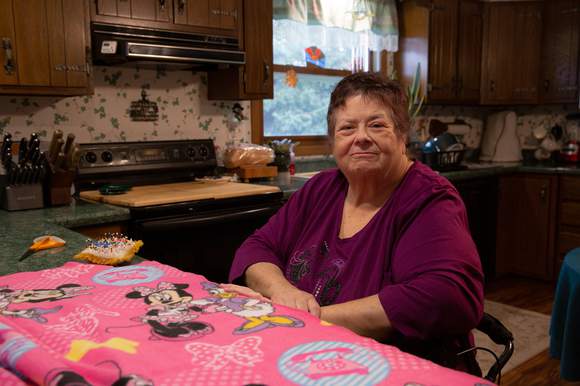 HAPPY PATIENTS
For Joe Kujawinski, treatments in the hyperbaric chamber worked. "I've been healed since last fall," Joe said. "Now, I'm back at work every day of the week. A weight has been lifted from my shoulders."
"The amount of healing we see is just amazing," Dr. Kambol said. "We develop relationships with our patients and it's nice seeing how happy they are when healing happens."
Diane Donais of Pleasant Prairie is one of those happy patients. Diane's radiation treatments for cancer left her with periodic bleeding from her bladder. "I was very tired and slept a lot," Diane remembered, "I was really struggling." Diane says the treatments she received through the hyperbaric chamber at Froedtert Pleasant Prairie Hospital changed her life. "Now I'm starting to drive again and getting back to the crafts I enjoy," Diane said. "My life has turned around."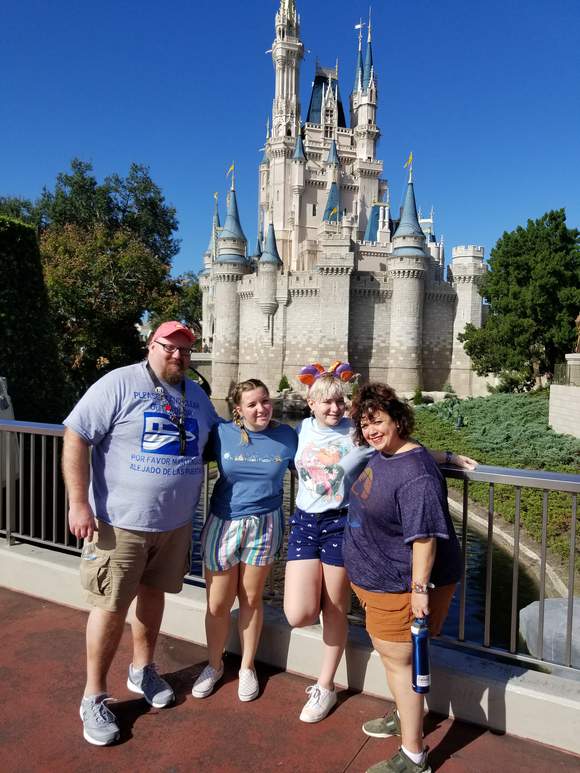 THEY WILL FIX YOU UP
"It's amazing what we can do with these treatments," Dr. Kambol said. "A patient's cancer may be cured, but they can be left with bleeding problems that we're able to treat."
"We improve the quality of patients' lives," Dr. Zick said. "People with chronic wounds that won't heal are carrying a horrible burden. It really affects their quality of life."
That is certainly how it affected Cliff Johnson of Kenosha, an assistant principal at Tremper High School. "It started with me breaking my foot," Cliff said. "It was a pretty bad break. I had surgery and everything was healing except the wound."
Then a friend who had been treated at Froedtert Pleasant Prairie Hospital's Hyperbaric Wound Care Clinic told Cliff, "Don't mess around with this any longer. Go and see these people. They will fix you up," recalled Cliff, whose primary care physician was with another Kenosha healthcare provider. "I insisted that he refer me to Froedtert South, where friends had told me I needed to go to get better fast," Cliff said.
A PLAN FOR EACH PATIENT
For Cliff and patients like him, the process begins with a thorough evaluation to understand a patient's overall health and uncover any underlying conditions that could be slowing their healing.
"We often order testing, because circulation problems can prevent healing," Dr. Kambol said. "We might need to send a patient to our colleagues to restore their circulation. Or we'll order an MRI of a patient's wound," he added. "If there is a bone infection, the wound won't heal until we get rid of that infection."
"Based on what we find we then come up with a plan of care for the patient," Dr. Zick said, "and we often start with a traditional treatment, such as removing dead tissue, to determine what's going on in the wound to make sure it's not infected."
That is precisely how Cliff Johnson's treatment began. "I don't like taking days off work," Cliff recalled. "The Hyperbaric Wound Care Clinic hours of operation allowed me to come in after work, which was fantastic."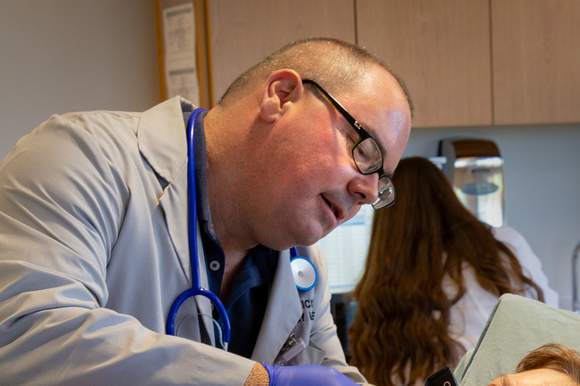 FEELING LIKE FAMILY
"I only went to the clinic four times," Cliff said. "After that my wound was healed. They identified the problem and got right on it, and from the office staff to the doctors to the nurses and everyone, they're just the nicest people. I was back on my feet faster than I thought," Cliff added, "and able to fully enjoy a family vacation to Disney World® with my wife and twin daughters."
"We're very successful at what we're doing," Dr. Kambol said. "And we try to make patients feel very comfortable. We establish relationships with them. We want to make them feel like family here."
CLOSE TO HOME
"Froedtert Pleasant Prairie Hospital is fanstastic," Dr. Zick said. "We have amazing tools to help people heal. It's a family oriented clinic, a friendly place where we help people heal right here in Kenosha County, close to home."
"Getting the treatments in Kenosha made a big difference," Diane Donais said. "I couldn't have gotten better care anywhere else, and it kept me close to my family."
"I live out in western Kenosha County, so I could drive right down Highway 50 to the hospital," Joe Kujawinski said. "But knowing what I know now, I'd have driven to Timbuktu for their care. I have to thank them for not giving up on me," Joe said. "They stand behind their patients."
Back to Article List