"It's a little bit safer to live in Kenosha today," began a story in the Kenosha News on July 15th, 1989 – a Saturday nearly 30 years ago. Why suddenly safer? Because the Kenosha Fire Department had just graduated its first class of paramedics – a milestone that would dramatically improve emergency medical care in the community and directly result in the saving of thousands of lives.
Dr. Kevin Fullin, a cardiologist with the Froedtert South Medical Group, played a key role in the landmark achievement, pledging "the medical community will not sleep until we have an excellent paramedic program in place."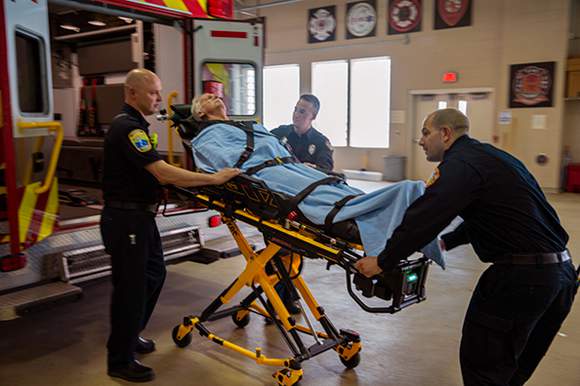 ZERO SURVIVORS
Paramedics were the solution to a pressing problem in Kenosha County in the mid-1980s – a crisis made clear by this startling statistic: Of the 124 cardiac arrests that Kenosha Fire Department rescue squads responded to in 1985, not one patient survived. None.
It was a problem all too familiar to Howard Cooley, then President and General Manager of Jockey International, where he witnessed one of his employees suffer a heart attack on the job. "Two firefighters arrived with a gurney, an oxygen mask, and a clipboard," Cooley recalled. "They transported the employee to the hospital where she was pronounced dead. At that time, firemen had basic life-saving skills, and the low survival rate for heart attack patients was appalling."
SAVING LIVES
Cooley and Dr. Fullin were amongst the first in the medical, public safety, and business communities in the mid-1980s who recognized the urgent need to advance Kenosha's first responders from basic emergency medical technicians (EMTs) to paramedics with advanced life-saving skills and equipment. Together, they helped lead the successful campaign to convince civic leaders to initiate a paramedic training program. Dr. Fullin personally trained the first class of paramedics. Three decades later, their efforts are still paying off every day, as illustrated below:
In Pleasant Prairie, where paramedics re-started the heart of a man who'd suffered a heart attack at work
In Bristol, where paramedics resuscitated a newborn whose heart had stopped beating, now a healthy eight-year-old boy
In Salem, where paramedics transmitted a heart attack patient's electrocardiogram (EKG) to doctors at Froedtert Pleasant Prairie Hospital so the cath lab and staff were ready when they arrived.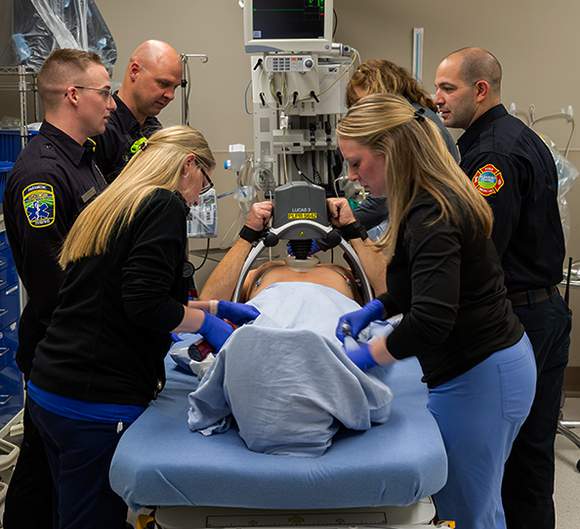 MAKING AN IMPACT
Retired Pleasant Prairie Fire Chief Paul Guilbert will never forget the thank you note from a woman saved by his department's paramedics following a heart attack. "Because of you," Guilbert recalled the note saying, "I still have an impact on the lives of my children and grandchildren." Without paramedics, Guilbert said, "She wouldn't have made that impact."
Pleasant Prairie Fire & Rescue recently acquired two state-of- the-art LUCAS chest compression devices that give patients continuous and high-quality CPR, which is critical after cardiac arrest. The first time they used it, paramedics successfully revived a man who'd suffered a heart attack while mowing his lawn.
"LUCAS is definitely a game-changer when we talk about heart attacks," said Pleasant Prairie Fire Chief Craig Roepke. "We now have the ability to get to patients faster, and apply the LUCAS and other technologies, as well as medications, significantly sooner, in hopes of creating better outcomes."
COMMUNITIES IN COLLABORATION
Dave Piccolo is emergency medical services (EMS) coordinator for Froedtert Kenosha Hospital and Froedtert Pleasant Prairie Hospital. He witnesses the difference paramedics make in the lives of patients every day. "They went from basic life support to advanced life support, so they can really bring the first few minutes of what we do in the emergency departments out into the field."
Dr. Ben Feinzimer is an emergency department physician at Froedtert Pleasant Prairie Hospital, and the medical director for paramedics in Bristol, Paris, Pleasant Prairie, Salem, and Somers, as well as two private ambulance services. "These departments have become absolute leaders in the region and in the state," Feinzimer said. "They've promoted cutting edge advances in patient care - so much so that when I travel outside this region I will hear people talk about Kenosha County and these advanced life-saving services."
The Kenosha Fire Department has received four American Heart Association Mission: Lifeline awards – including two gold- plus awards, their highest honors. "The awards acknowledge high standards of care for patients suffering from the most serious kind of heart attack," said Jim Poltrock, EMS Chief. "By using modern technology and applying their training and medical guidelines," Poltrock said, "Kenosha paramedics can rapidly identify suspected heart attacks, promptly notify the emergency department and trigger an early response from awaiting hospital personnel."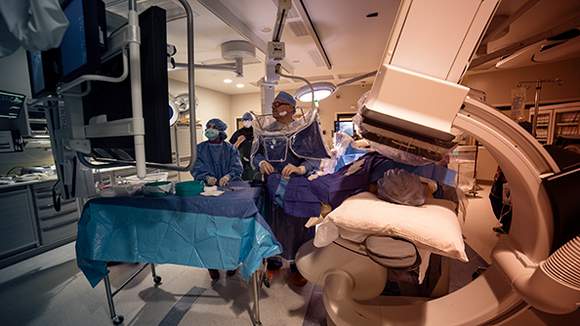 CLOSE TO HOME
All the while, Froedtert Kenosha Hospital and Froedtert Pleasant Prairie Hospital have led the way in cutting edge cardiac care close to home. They established the Michael E. DeBakey Heart Institute of Wisconsin with guidance and assistance from the heart care pioneer, in surgical facilities that DeBakey himself once described as, "Absolutely magnificent, in fact, the best we've ever seen."
Today, Dr. Kevin Fullin looks back over three decades of commitment to improving cardiac care in the Kenosha community with pride. "When I arrived here, people were coming into the emergency department with heart attacks and no one survived," Fullin recalled. "Today, we're among the leaders with results among the best anywhere in the country."
Back to Article List