Babies are born, diseases are diagnosed and treated, surgeries are performed, lives are saved. That is the extraordinarily rewarding work we are privileged to do at Froedtert South. Our dedicated doctors, nurses, and other health care professionals are front and center in that mission every day. But standing right behind them - sometimes unseen and sometimes under-appreciated - are countless other people from our community who make their work possible. These are the stories of four of them, told in their own words.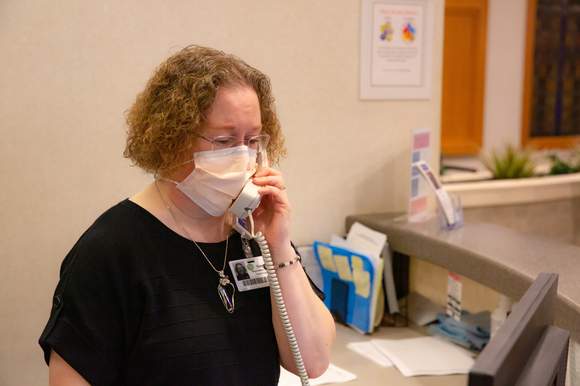 Where patients and visitors are like family
When you walk into Froedtert Pleasant Prairie Hospital, odds are the first person you speak with will either be me or a campus receptionist.
Every weekday, we average between nine hundred to a thousand people coming into the main entrance, plus another two hundred into the Schmidt Surgery Center. Our aim is to help each one of them get to where they need to go.
Offices and clinics sometimes move, so we keep track of those changes. Patients occasionally come to the wrong facility, so we help them figure out where they should be. A patient might come in for an appointment with a doctor who isn't on our staff, so I'll pull out my cell phone, look up the doctor, and call their office. We help everyone even if they're not one of our patients.
When people come here to visit someone, we confirm that their patient hasn't moved to another room, give them a sticker with the room number, and make sure they know how to get from the desk to that room. If someone is going somewhere that is a little harder to find, we personally escort them, sometimes pushing them in their wheelchair.
My favorite thing about this job is getting to know the regular patients and visitors - the people we can call by their first name because they're not just another face. For example, we have a guest who is here on a regular basis and needs some assistance. We help her take her scarf and gloves off and put her mask on, then we give her a ride to where she's going. She genuinely appreciates that we stop what we're doing to take care of her as soon as we see her. She's like family.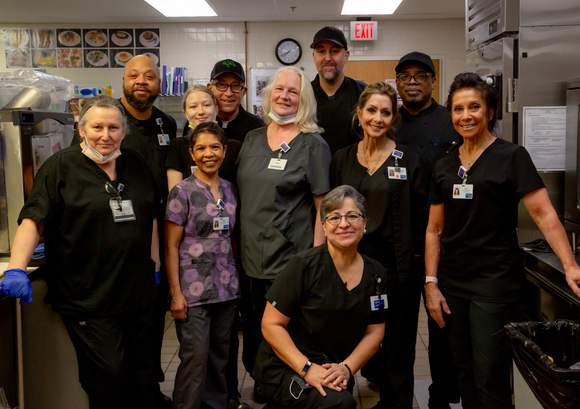 Where food is love
We are serving more than fifteen hundred people every day, including patients, visitors, and staff.
I have more than fifty dedicated and compassionate employees who sometimes hear that, "they're "just food service." I remind them that they are the smiling faces our patients see delivering food to them more than three times a day, every day. Depending on the patient's circumstances, food may be the highlight of their day, and play an important role in helping them regain their strength. We collaborate closely with dieticians to know patients' allergies, dietary restrictions, and likes and dislikes to plan and prepare their meals.
We take pride in the food we serve our patients, and the food offered in our cafeteria. Many guests enjoy our ala carte menu, served seven days a week. Chocolate chip cookies are most popular item on our menu. We sold nearly ninety-two thousand of them last year. Our baked salmon is another favorite. We sold nearly eight thousand filets last year at a price that is a lot less than you'd pay at a restaurant.
Food is so much more than just health and nutrition. Coming from an Italian family, I know that the food we prepare and serve is love, it's comfort and community. That's why patients are number one for us.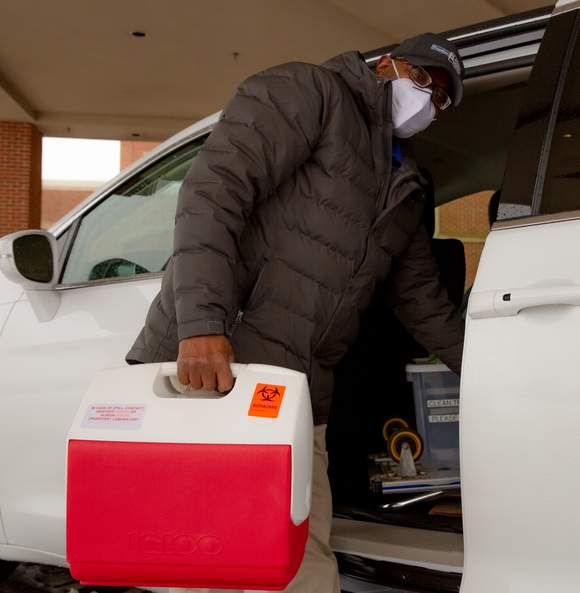 Where we're on the move 24/7
As one of three couriers on our staff, my job keeps me moving, and I like that.
I start at five in the morning picking up laundry at our Pleasant Prairie facility and taking it to our downtown Kenosha location to be cleaned. I also do fast turnaround lab runs, picking up blood or other samples to be tested. I do runs to the bank and post office, as well as transferring food, materials, and supplies from one campus to the other.
Picking up and delivering medications for patients is a big part of what I do. I might need to pick up some medications in Zion, Illinois for patients in our Cancer Center, or drive to Froedtert or Children's hospitals in Milwaukee for a patient's medication.
If you look at my log sheet, my routine is pretty similar day to day, which I like. The secret is to keep moving, which is okay because I like getting around and interacting with people. Everywhere I go, everyone seems to know me. I like them and, hopefully, they like me!
We stay busy. I drive an average of about 70 to 80 miles a day in Kenosha County alone, and I walk an average of five miles a day.
I'm often carrying a little red and white cooler. I wish I had a dollar for every time someone has asked me, "What do you have for lunch?" or, "Is that a heart or a kidney?" Actually, it's usually blood samples or other specimens for analysis in our lab – not my lunch with a big biohazard warning sticker on it.
People often see me coming and going, but may not be aware of how I'm contributing. When someone needs something picked up or delivered somewhere, we're the first ones they call. We play an important role in patients' day to day care. That's why I love my job.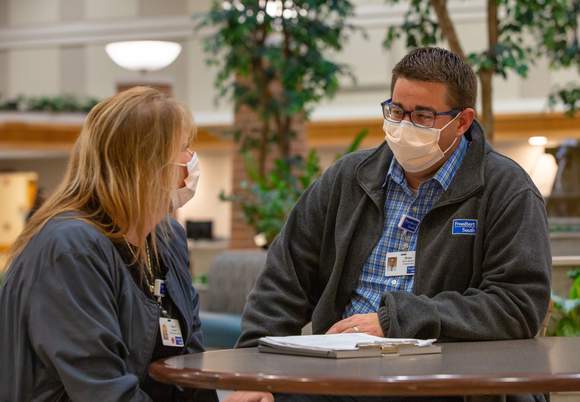 Where we never stop caring
At Froedtert South, we have two families: the ones at home, and the people we care for in our hospitals.
In my role as a senior director, I oversee several hundred people working in many different departments. I help managers and directors see their operations from a different perspective, so I can assist in helping them manage people and solve problems, especially the unexpected ones.
I recently got a call about an elderly patient coming for surgery the next day. He thought he would be able to drive himself home after the procedure. Some other leaders were out of the office that afternoon, so I was called to see if we could assist with getting him a ride home. The answer: "Of course we can. If need be, I'll drive him home myself."
One Christmas night, we had a leaky fire sprinkler in the kidney center. I was among many people who were here cleaning up from seven that evening until three the next morning because we knew that more than a hundred patients had to receive their life-saving dialysis treatment the following day.
Think about this: we never close. Ever. We're not a restaurant that can put a sign on the door saying we're closed for repairs. We can't shut down the dining room and just keep the drive thru open.
Everyone here at Froedtert South gets that. They are truly passionate about caring for patients. Our people often sacrifice their personal time to help people in need, and they get satisfaction from doing that, regardless of their job description.
A housekeeper at Froedtert South has more passion for what they do because they're doing it in a hospital. They're not just cleaning a room; they're preparing it so a patient doesn't get sick because their room wasn't cleaned properly.
The patients we see are people we know from our community – the community that we're part of. They're our friends and neighbors and family. We all want Froedtert South to always be here when those people need us.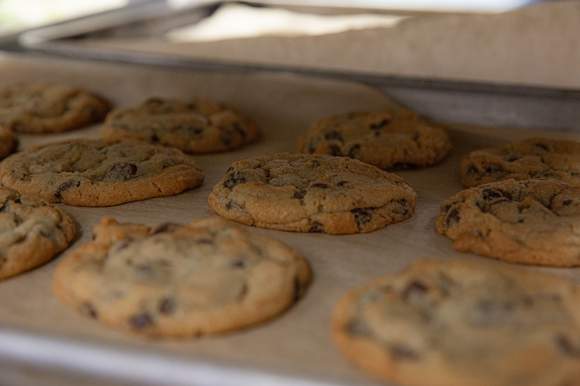 Froedtert South Food by the Numbers
In 2022, we:
Served 307,541 meals
Fed 109,189 patients
Delivered approximately 1,000 guest trays
Fed 6,675 people at special events
Baked 91,921 chocolate chip cookies
Prepared 7,531 servings of salmon
Cooked 29,513 eggs for breakfasts
Served roughly 12,000 breakfast sandwiches
Back to Article List