I'm always happy to tell patients that I grew up in Racine, and my mom and dad still live there, so I am from the Kenosha County area.
In middle school I became interested in science, and my interest grew through high school and college. I received my undergraduate degree from UW Madison, and my medical degree from Ross University School of Medicine located on the Caribbean island of Dominica, where many American students study medicine.
Medical school involved two years of traditional classroom studies, followed by two years of clinical work in Chicago. Then I completed an internal medicine residency in Grand Rapids, Michigan, followed by a fellowship in respiratory and critical care in Detroit. When my fellowship was completed, I moved back to Southeastern Wisconsin and found my home at Froedtert South.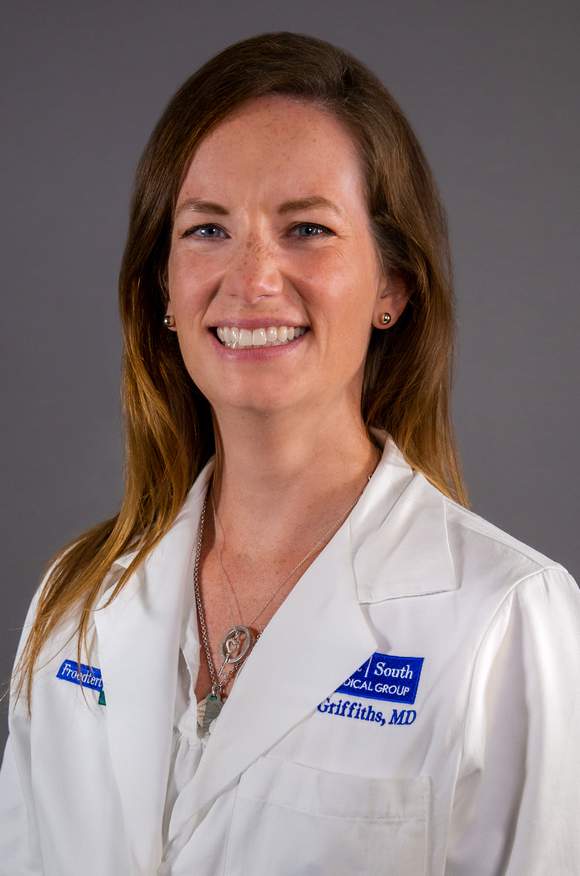 A robust respiratory team
I'm one of the newer pulmonologists – or respiratory specialists – at Froedtert South. I started in August of 2020, and joined a robust general pulmonary practice here at Froedtert South. That winter and the winter of 2021 were very rough in terms of COVID-19. This winter it hasn't seemed to be quite as severe. Sometimes, we get new patients with a history of COVID-19 who haven't recovered completely. These patients may have an asthma-type syndrome, or lingering fatigue. It's much rarer, but we also see patients with scarring in their lungs from COVID-19. Some of these patients recover completely within a few weeks, but others take several months, and some tell me they've never really been the same after COVID-19, but are learning how to cope with their condition.
I also see patients for all sorts of different respiratory diseases such as asthma, COPD, or what are called "interstitial lung diseases" that cause shortness of breath and other symptoms.
Intensive care focus
As my medical career has unfolded, I've realized that I also love working in the intensive care unit, or ICU, which typically involves a lot of respiratory care. ICU is a very fast-paced environment that requires quick thinking to provide care for patients who often need extensive treatments and procedures – an atmosphere that I find challenging, yet stimulating.
In ICU we get to work with many other physicians in internal medicine, cardiology, and other specialties. It involves a lot of teamwork, which is especially rewarding. And we also get to provide care to patients' families, which can be especially fulfilling.
Breakthrough respiratory technologies
In my fellowship I trained with what is called endo bronchial ultrasound, or EBUS - a less invasive technique for diagnosing and determining the stages of lung cancer. We use this technology to biopsy nodules discovered in patients' lungs. During the same procedure, we can also examine and biopsy lymph nodes in the middle of a patient's chest if they appear enlarged or abnormal. This can eliminate the need for a patient to undergo multiple procedures – and it is the gold standard right now for lung cancer diagnosis.
Robotic assisted bronchoscopy is a different technology that we sometimes use in conjunction with EBUS. Using a catheter, we are able to reach nodules further into a patient's lung than is possible with standard procedures. We then attach tools to the catheter to take samples for biopsy. We can also examine the patient's lymph nodes and, if needed, biopsy them at the same time, eliminating the need for a second procedure. If a biopsy is positive, the patient already knows the stage of their cancer and can go directly to their oncologist to begin treatment. Robotic assisted bronchoscopy also reduces the risk that a patient with a lung disease such as emphysema will suffer a collapsed lung during a traditional biopsy procedure.
For someone who is wondering if these procedures might be right for them or someone they know, I recommend they start out by talking with their primary care physician, or the specialist who discovered the abnormalities on their CT scan, and get a referral to our respiratory care clinic. We will always recommend the best step forward for each individual patient. Endo bronchial ultrasound and robotic assisted bronchoscopy procedures are both performed on an outpatient basis.
Our ability to perform these advanced procedures here at Froedtert South means people in the Kenosha County community don't have to go all the way to Chicago or Milwaukee to take advantage of these leading-edge respiratory care technologies.
Treating chronic respiratory issues
I also help many patients manage their COPD, or chronic obstructive pulmonary disease, which is very common among smokers. I see many patients who have just been diagnosed with COPD – from those with very mild symptoms who don't need a lot of medication, to those with very severe symptoms. We have an excellent treatment program for all COPD patients.
We're very lucky In Kenosha County to have the pulmonary rehabilitation clinic at Froedtert South. The clinic provides a way for patients with lung diseases of any kind to learn more about their condition and breathing techniques, as well as rebuild their strength and stamina. Over the course of two or more weeks, patients work with our therapists on pulmonary rehabilitation, or, sometimes, cardiac rehabilitation for patients who have had heart surgery. It's very convenient for our patients here in Kenosha County to have a rehab facility this close to home where they can continue working on improving their breathing.
Loving the community
Having completed much of my medical education in large urban areas, I prefer practicing in a smaller community like Kenosha, where patients often come to see me because I did a good job treating their brother, sister, friend, neighbor, cousin, or someone else they know. Often, patients reconnect with me after their treatment is completed to let me know how they're doing. I just received a card from a patient with cardiac issues I helped treat to let me know how she is doing, which is very nice. In bigger cities and medical centers, you don't always get that with patients.
When I'm not working, I like to travel inside the U.S. to visit different states, and I really enjoy our national parks. I went on a six-week camping trip in high school, where my love of hiking and camping began. I also like running, and I've gotten into rock climbing and yoga as well. I like doing things outside of medicine that help me concentrate on my own health, as well as the health of my patients.
I sometimes run into a patient at the grocery store or somewhere else who tells me, "You know, my sister sees you, or my cousin is your patient, and they really like you." That's always so great to hear. We do our best to make all patients feel happy and cared for.
I want people in our Kenosha County community to know that at Froedtert South we have a great respiratory care clinic right here, close to home.
Back to Article List