Ear, Nose and Throat Services
What does it take to help you breathe easy? We know the answer is different for everyone. That's why we listen carefully to patients' concerns when it comes to ear, nose and throat conditions, to develop individualized care plans that offer true relief.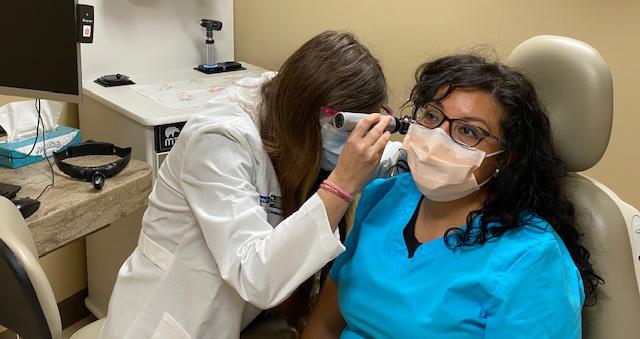 As specialists serving the community we call "home," we dedicate time and resources to treat each patient as an individual, rather than a condition. Not only in terms of our personalized care, but in staying accessible throughout your treatment. Because we care deeply about each of our patients, you can always expect easy appointment scheduling and follow-up phone calls directly from your provider.
Our local team also makes the best available knowledge accessible to all our patients. We partner with the leading experts from Medical College of Wisconsin and its ENT department to support our diagnosis and treatment of ear, nose and throat conditions closer to home.
Conditions We Treat
Our local team's expertise and collaboration with Froedtert & the Medical College of Wisconsin ensures an effective diagnosis and treatment of a wide variety of ear, nose, and throat conditions – without needing to travel far. Our highly trained specialists lead the region in best assessing your concerns to help you find real solutions.
Ear, nose and throat disorders
Allergies
Benign and malignant tumors of the head and neck
Chronic Sinusitis
Difficulty breathing through the nose
Difficulty swallowing
Facial Trauma
Hearing loss
Hoarseness
HPV related head and neck cancer
Hyperparathyroidism
Inverted papilloma
Nasal polyps
Nasal and sinus tumors
Oral cavity cancer
Parotid and salivary gland disease
Runny nose
Skin cancer of the head and neck
Throat cancer
Thyroid nodules, goiters and cancer
Tonsil and adenoid problems
Treatments and Procedures
Using the most advanced technology and techniques, our ear, nose, and throat team provides a wide variety of treatments and procedures that offer long-lasting relief for any condition you face. Our fellowship-trained surgeons offer confidence, knowing you are in the skilled hands of the region's most highly trained ear, nose, and throat specialists.
Balloon sinus surgery
Comprehensive sinus surgery
Ear tube placement
Head and neck cancer surgery
Head and neck reconstructive surgery
Laryngoscopy
Medical and surgical management of ear, nose and throat conditions
Microvascular reconstructive surgery
Minimally invasive sinus surgery
Nasal cryotherapy for rhinitis
Neck tumor removal
Parathyroidectomy
Parotidectomy
Repair of CSF leaks in the nose
Salivary gland surgery
Sentinel lymph node biopsies
Septoplasty
Thyroidectomy
Tonsil surgery
Tumor removal from the sinuses and nose
Vocal cord surgery
Our Doctors
Our team of ear, nose and throat specialists is experienced in treating patients of all ages, ensuring a more comfortable experience throughout the course of your treatment.
Location(s)
Somers Clinic
3400 Market Lane
Kenosha, WI 53144
Get Directions
Ear, Nose and Throat Services
Our team of highly trained specialists is dedicated to exceeding your expectations for care by making things as simple and easy to understand as possible, treating any ear, nose or throat condition in a way that helps you experience a greater sense of relief.