Family Medicine Services
Family medicine physicians have a broad base of training that allows them to provide general care for the entire family. They treat patients regardless of age, sex, or nature of condition and serve as a medical home base for you and your family. Family medicine physicians can provide health maintenance, preventive care and treatment of acute and chronic illnesses.
Call to Schedule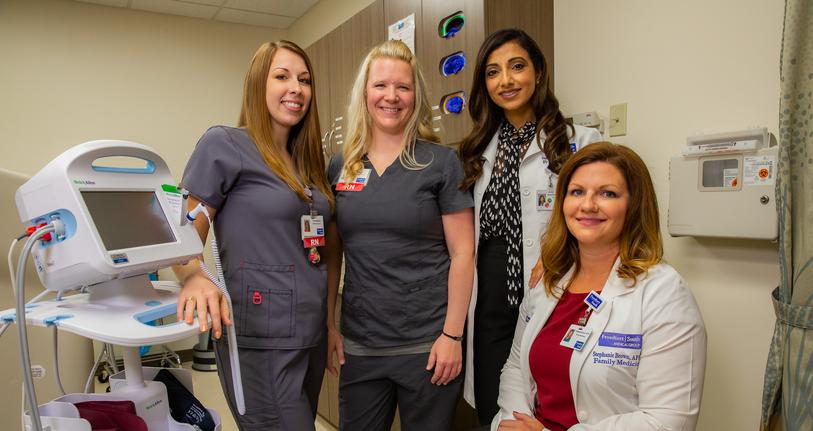 A patient and physician relationship which is a lifelong partnership from birth through old age. We know the answer is different for everyone, that is why we listen carefully to patients' concerns to develop individualized care plans that offer quality outcomes. We understand the social and economic factors that impact healthcare and incorporate those into individualized treatment care plans that offer true solutions for quality outcomes. We are at the center of care that includes specialty treatments and referrals always returning to the quarterback of patient care services. As your quarterback serving our community at large, we dedicate the time and resources to treat every patient as an individual rather than a condition. Not only in terms of our personalized care, but in staying accessible throughout your life. Because we care deeply about each of our patients, you can expect convenient appointment scheduling and follow-up telephone calls directly from the physician or staff.
Conditions We Treat
Our physician expertise ensures an effective diagnosis and treatment of a wide variety of patient conditions. Our highly trained physicians are the best in assessing your concerns to help you find real solutions.
Acute and Chronic Illnesses
Asthma
Chronic Obstructive Pulmonary Disease (COPD)
Congestive Heart Failure
Diabetic Screening and Management
Gastroesophageal Reflux Disorder (GERD)
High Blood Pressure
Hypertension
Hypothyroidism
Insomnia
Joint Pain
Lipid Disorders
Mental Health
Musculoskeletal Conditions/Issues
Obesity Medicine
Pediatrics
Skin Diseases, Rashes, Eczema, Acne
Vascular Risks
Weight Management
Well Child Care
Women's Health
Treatments and Procedures
From the chronic to the most acute conditions, along with health promotion and wellness, we direct your care providing a wide variety of treatments and procedures to achieve healthy lifestyles and life balance. Our family medicine physicians provide a wide variety of treatments and procedures that offer long-lasting relief for any condition you face. Our board certified/board eligible physicians offer confidence, knowing you are in the skilled hands of highly trained physicians.
Cancer Screening and Prevention
Colposcopy
DOT Medical Exams
Ear Wax Removal
Health Maintenance and Prevention
Immunizations
IUD Placements
Laceration Repair
Mole Removal
Nexplanon
Routine Physicals
Skin Biopsies
Splinting/Casting
Sports Physicals
Vasectomy