Gastroenterology Services
GI conditions often feel very personal – and therefore, deserve personalized care, that keeps you comfortable from consultation through treatment. We serve our community with highly individualized care for a wide range of gastroenterological conditions, to help you enjoy life to the fullest again.
Call to Schedule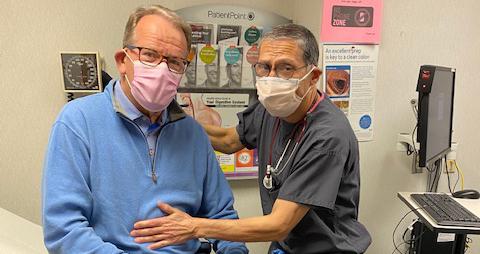 Our top priority is offering support for you and your family from diagnosis through recovery, so you know what to expect at every stage in your journey. Our gastroenterology team of board-certified physicians treat gastrointestinal conditions and liver disease with state-of-the-art technology and follow recommendations from the American Society of Gastroenterologists Association, ASE, American Society of Endoscopy and American College of Gastroenterology in delivering care. It helps us find better answers – and provide effective treatments – for your GI concerns as soon as possible.
Conditions We Treat
Our team is here to provide the care and close attention your gastrointestinal condition deserves. We encourage patients to ask any questions they have, as it helps our providers find answers that everyone can feel confident in.
Abdominal Pain/Lower GI Tract
Change in Bowel Habits
Colon Cancer
Colon Polyps
Constipation
Diarrhea
Diverticulosis/Diverticulitis
Irritable Bowel Syndrome
Abdominal Pain/Upper GI Tract
Barrett's Esophagus
Esophagitis
Gastritis
GERD/Reflux/Heartburn
Colitis: Microscopic, Infectious Celiac Disease
C-Difficile/Fecal Transplant
Cyclic Vomiting Syndrome (CVS)
Esophageal/Motility
Achalasia
Dysphagia
Esophageal Dysmotility
Gastroparesis
Motility Disorder
GI Bleed
Anemia
Hematemesis
Hemorrhoids
Peptic Ulcer Disease
Rectal Bleeding
Hepatology
Ascites
Cirrhosis
Fatty Liver
Hepatitis: Autoimmune, A, B, and C
Portal Hypertension/Esophageal Varices
Primary Sclerosing Cholangitis
Primary Biliary Cholangitis
Hemochromatosis
Inflammatory Bowel Disease (IBD)
Crohn's Disease
Short Gut Syndrome
Ulcerative Colitis/Proctitis
Pancreaticobiliary
Bile Duct Stones
Acute/Chronic Pancreatitis
Peg Placement
Treatments and Procedures
Using state-of-the-art, high-definition scopes, our gastroenterology team performs many minimally invasive, endoscopic diagnostic tests and procedures for more efficient and effective treatment.
Breath test (lactose intolerance)
Colonoscopy
ERCP
Fecal transplant
Flexible sigmoidoscopy
Gastroscopy
Hemorrhoid banding
Our Doctors
As members of the community themselves, Froedtert South Medical Group physicians are dedicated to making GI care and treatments readily available to our neighbors here in southeastern Wisconsin.
Location(s)
Prairie Ridge Clinic
9697 St. Catherine's Drive
Pleasant Prairie, WI 53158
Get Directions