Neuro, Endovascular & Spine Surgery Services
The neuro, endovascular, and spine surgery department diagnoses and treats diseases and disorders affecting the nervous system, including the brain, spinal cord, and the brain's vascular system. We specialize in minimally invasive endovascular treatments that aid in a faster, more comfortable recovery. That is why our providers practice their advanced expertise in the community they care for most.
Call to Schedule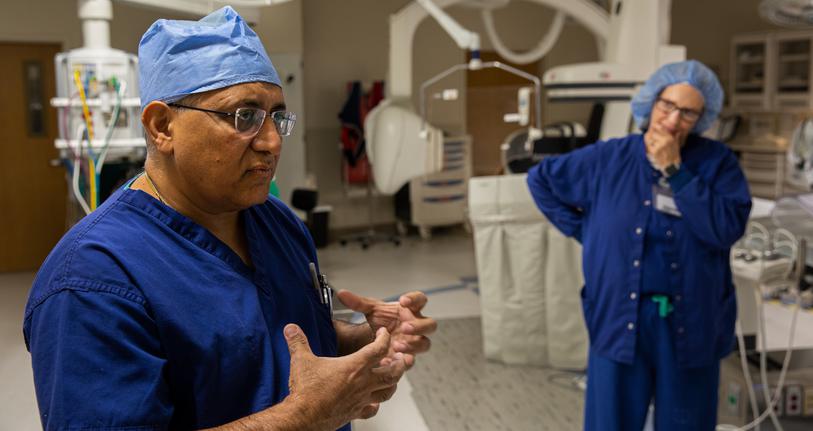 While most cases of neck and back pain are minor, you should seek medical care for pain caused by an injury that's accompanied by any of the following symptoms:
Severe headaches
Numbness or tingling in the arms or legs
Shooting arm or leg pain
Loss of bladder or bowel control
Loss of balance
Weakness in hands
Conditions We Treat
Treating neurological conditions often requires an in-depth understanding of your symptoms. Our providers work closely with patients, involving them in their treatment options. We can provide a wide range of tests to help diagnose your condition and the most effective, least invasive treatment plans that manage or eliminate your pain and return you back to a normal lifestyle.
Back pain
Brain tumors
Carpal tunnel syndrome
Cerebral aneurysms
Hemorrhage
Herniated discs
Hydrocephalus
Leg pain
Malformations
Neck pain
Neuroma/nerve tumors
Spinal tumors
Stroke
Trauma
Trigeminal neuralgia
Treatments and Procedures
Using the most advanced technology and techniques, our neurosurgery team provides a wide variety of treatments and procedures that offer long-lasting relief. Our goal is to see outpatient referrals within a week of referral.
Aneurysm clipping
Aneurysm coiling
Back surgery
Brain surgery for tumors
Carpal tunnel surgery
Neck surgery
Neuroendovascular treatments
Our Doctors
With more than 25 years of experience, our primary neurosurgeon, Dr. Ahuja, is one of the very few neurosurgeons in the world who can perform both neurosurgical and neuro endovascular procedures. He is a Board Certified Neurosurgeon and is Fellowship trained in neuroendovascular intervention. Dr. Ahuja performs all surgeries himself, ensuring consistent, high-quality care throughout the full course of your treatment.
Location(s)
Prairie Ridge Clinic
9697 St. Catherine's Drive
Pleasant Prairie, WI 53158
Get Directions
Phone Numbers
Neuro, Endovascular, and Spine Surgery

262.656.3465

Neuro, Endovascular, and Spine Surgery
Neuro, Endovascular and Spine Surgery Services
Conditions affecting the brain deserve advanced care from the best minds in medicine. We are proud to bring that level of expertise to the community we call home. With convenient locations, flexible hours and personalized support, the care you need is all right here.