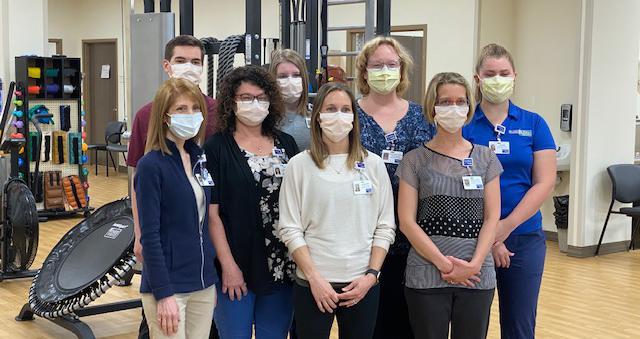 Froedtert South provides a collaborative approach with physical, occupational and speech therapists who specialize in neurologic rehabilitation. We help treat a wide variety of conditions using evidence-based treatments to maximize recovery and promote independence. We work with each individual and their family members to improve quality of life and help our patients meet their goals at home, at work, and in the community.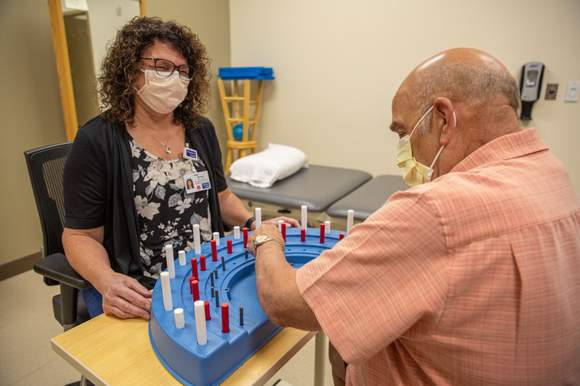 Who We Are
Froedtert South's Neurologic Rehabilitation Providers:
Physical Therapy (PT): Specialized experts in movement disorders affecting strength, flexibility, balance & mobility
Occupational Therapy (OT): Specialized experts in improving Activities of Daily Living by restoring arm function, motor skills, and functional mobility.
Speech and Language Pathology (SLP): Specialized experts in treatment of communication, cognition, voice & swallowing disorders.
Audiology: Specialized experts in evaluating and treating hearing disorders including tinnitus. Evaluates for dizziness.
Conditions Treated
The Froedtert South Neurologic Rehabilitation Clinic team offers a comprehensive program for patients with a variety of neurological conditions including, but not limited to:
 Stroke
 Parkinson's Disease
 Spinal Cord Injury
 Concussion
 Guillain-Barre Syndrome
 Traumatic Brain Injury
 Multiple Sclerosis
 Huntington's Disease
 Muscular Dystrophy
 Amyotrophic Lateral Sclerosis
 Cerebral Palsy
 Chiari Malformation
 Vertigo/Dizziness
 Balance Deficits
 General muscle weakness/Deconditioning
 Dysphagia/Swallowing Disorders
 Voice Disorders
 Communication and Cognitive Disorders
 Headaches
Services Provided
 Gait and Balance training
 Fall Prevention
 Functional training: Activities of Daily Living
 Strength Training
 Wheelchair Assessments
 Orthotic and Durable Medical Equipment Assessments
 Splinting and Bracing Assessments
 Visual Retraining
 Dizziness Treatment
 Speech-Language Therapy to improve communication
 Cognitive-linguistic Retraining
 Dysphagia/Swallowing Treatment
 Spasticity Management
 Aquatic Therapy
 Hearing Testing and Treatment
 Lee Silverman Voice Treatment BIG (LSVT BIG)
 Lee Silverman Voice Treatment LOUD (LVST LOUD)
 Parkinson Wellness Recovery (PWR!)
 Neuro-Developmental Treatment (NDT)
 Dry Needling
 Medicupping
 Speech Generating Device Assessments and Treatment
Location(s)
Pleasant Prairie Clinic
10256 Old Green Bay Road
Pleasant Prairie, WI 53158
Get Directions
Prairie Ridge Clinic
9697 St. Catherine's Drive
Pleasant Prairie, WI 53158
Get Directions
Somers Clinic
3400 Market Lane
Kenosha, WI 53144
Get Directions