Plastic Surgery Services
Dr. Hill's aim is to understand your needs and interests in order to offer a team approach to plastic, aesthetic and hand surgery that focuses on you. At Froedtert South Plastic Surgery we understand that no two patients are alike and therefore no two patients' needs and interests are the same. Our plastic, aesthetic, and hand surgery services are directly tailored to each individual patient that we care for.
Call to Schedule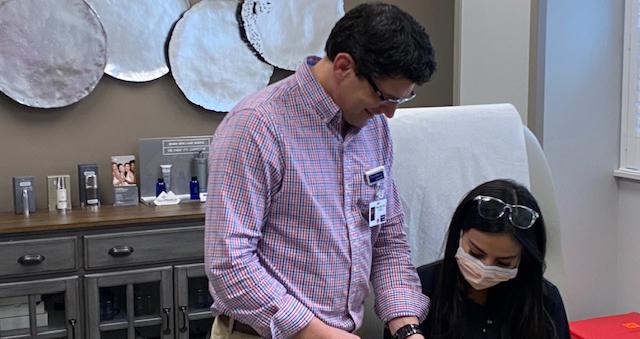 There is no safer place to have surgery than a hospital and there is no better hospital for safety, state-of-the-art technology, and compassionate care, in Kenosha or Pleasant Prairie. At Froedtert South Plastic Surgery, all surgeries are performed in the new outpatient surgery center directly attached to the Pleasant Prairie Hospital. Our focus is to provide the best overall care whether you are having carpal tunnel surgery, body contouring after weight loss, or breast enhancement surgery. From anesthesia to nursing care, operating room equipment to surgical personnel, we offer the cleanest environment, highly trained staff, and the most efficient processes to make each surgical experience safe, comfortable, and comprehensive.
We specialize in leading-edge treatments that reduce scarring, minimize post-operative discomfort, and help you return to normal function quicker than traditional treatments. Dr. Hill is the only hand surgeon in the Kenosha and Pleasant Prairie area who performs carpal tunnel surgery using the MicroAire endoscopic system. In under 10 minutes, the carpal tunnel is released from the inside using a specialized camera, which eliminates the need for an incision on your palm. This results in less post-operative discomfort and a quicker return to work and play.
Froedtert South Plastic Surgery Procedures
At Froedtert South Plastic Surgery, we offer comprehensive plastic, aesthetic, and hand surgery services. This includes many office-based aesthetic services.
Aesthetic Surgery
Enhance your body and restore a more youthful appearance. Aesthetic surgery improves your overall confidence and self-esteem.
Breast enhancement (augmentation and lift)
Tummy tuck (abdominoplasty)
Arm lift (brachioplasty)
Thigh lift
Liposuction
Eyelid lift
Non-Surgical Aesthetics
In-office procedures or treatments that provide a youthful enhancement without the need for surgery and, typically, little or no down time.
Botox
Facial fillers (lip and cheek augmentation, wrinkle eversion)
Laser hair removal- Splendor X
Laser skin resurfacing
Laser spider vein treatment
Intense Pulsed Light (IPL)
Chemical Peels
Microdermabrasion- Diamond Glow
Non-surgical body contouring- CoolSculpting
Non-surgical body toning- CoolTone
Medical-grade skincare products
Plastic Surgery
Breast reconstruction
Breast reduction
Body contouring after weight loss
Skin cancer excision/reconstruction
Scar revision
Labiaplasty
Eyelid lift
Gynecomastia
Hand surgery
Carpal tunnel release
Cubital tunnel release
Hand and wrist fracture treatments
Dupuytren's disease
Tendon/ligament injury and inflammation treatments
Hand and wrist arthritis
Nerve repair
Our Doctor
Froedtert South Medical Group's plastic surgeon, Dr. Hill, offers extensive knowledge of plastic, aesthetic, and hand surgical techniques to ensure excellent outcomes and a safe and speedy recovery. Dr. Hill focuses on creating a patient-doctor team that centers on education so that his patients can make comprehensive, informed decisions.
Location(s)
Prairie Ridge Clinic
9697 St. Catherine's Drive
Pleasant Prairie, WI 53158
Get Directions
Plastic Surgery Services
Why choose Froedtert South Plastic Surgery?
Our goal, at Froedtert South Plastic Surgery, is to simplify the complex world of aesthetics and plastic surgery. We promise to offer unbiased, honest information about all the options we provide, without pressure. Our aesthetic and cosmetic consultations are always free. Call to schedule a visit to discuss skincare products, anti-aging treatments, skin rejuvenation, hair removal, body contouring, or surgical options that can enhance your appearance.
For more information about the services we offer, visit hillplasticsurgery.com.