Stroke Center Services
When it comes to stroke care, every second counts. We offer leading cardiovascular and neurovascular expertise so you can always access the level of stroke care you need from our Advanced Primary Stroke program, close to home.
Call to Schedule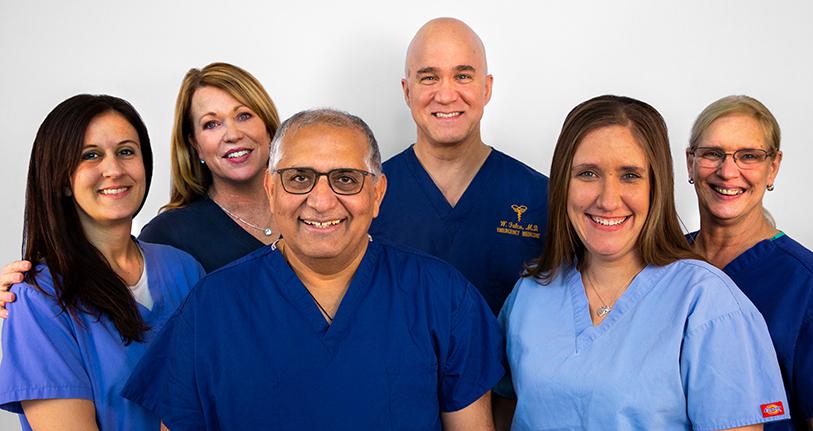 The best stroke care is often the closest stroke care. Our conveniently located hospital treats your condition as an emergency. As our community's leading and most comprehensive cardiovascular care provider, we're here to provide immediate care for those experiencing stroke, as well as ongoing support for stroke victims and preventative care for those who may be at risk. From proactive, preventative care to fast emergency treatment, including physical, occupational, and speech therapy during recovery, we're here to protect you from the consequences of this serious — and sometimes life-threatening — condition.
Signs and Symptoms of Stroke
Recognizing and treating stroke early can increase the chance of survival and diminish the likelihood of long-term mental and physical effects. Because every second counts, we want you to remember the symptoms and signs of stroke. There are a number of steps you can take to help recognize if you or someone you are with is having a stroke. An easy way to remember these steps is the acronym, BE FAST.
B - Balance
Watch the person move or walk. Is he or she suddenly having trouble with balance or coordination?
E - Eyes
Is he or she experiencing suddenly blurred or double vision or a sudden loss of vision in one or both eyes?
F - Face Drooping
Does one side of the face droop or is it numb? Ask the person to smile; is it crooked?
A- Arm Weakness
Is one arm weak or numb? Ask the person to raise both arms. Does one arm drift downward?
S - Speech Difficulty
Is the person's speech slurred? Ask the person to repeat a simple sentence like, "The sky is blue." Is the sentence repeated correctly?
T – Terrible Headache
If the person experiences a sudden headache often described as the worse headache of their life. Do not ignore the warning signs of a stroke. If you or someone you know is experiencing any of the above symptoms, immediately call 911 for emergency care.
Preventing a Stroke
The best way to manage stroke is to prevent it. This means making lifestyle changes to reduce your risk. Our team is here to help you understand what steps to take to minimize the effects of less-than-helpful habits and, in some cases, reverse the effects of cardiovascular disease that can lead to a stroke.
A stroke occurs when fatty deposits (plaque) often caused by several cardiovascular risk factors, build up inside the arteries that lead to the brain. These risk factors include a family history of stroke, increasing age, diabetes, smoking, high blood pressure, high cholesterol, excess weight, lack of exercise and stress.
If you are at risk for stroke (e.g. have multiple risk factors), talk to your physician. Your physician may order one of the advanced imaging studies to detect the presence of cardiovascular disease early which can help prevent a stroke. These tests include:
Carotid duplex scan (or carotid ultrasound)
Computed tomography (CT) scan
Magnetic resonance imaging (MRI)
Treatments and Procedures
While prevention is the most effective "treatment" for stroke, we individualize care if you are at risk for stroke, as well as in the unfortunate situation that you have suffered a stroke, developing treatment plans specific to the severity of your condition. Our cardiovascular care providers will carefully monitor your health to prevent further damage to your blood vessels which can lead to the damage caused by a stroke. They work collaboratively with your primary doctor and therapy teams to help you recover.
Occupational therapy
Physical therapy
Speech therapy
Treatment for a recent stroke or a stroke that is happening sometimes involves the administration of an intravenous medicine that can help eliminate the clot that may be causing the stroke or going into the brain through a blood vessel to actually mechanically remove the clot.
Our Doctors
As members of the community themselves, Froedtert South Medical group physicians are dedicated to making world-class cardiovascular and stroke care available to those who live in our community, as well as those in neighboring areas in southeastern Wisconsin. Our team assists patients with risk assessment, preventative steps, advanced cardiovascular imaging, and therapeutic treatments to help you manage a stroke and its consequences.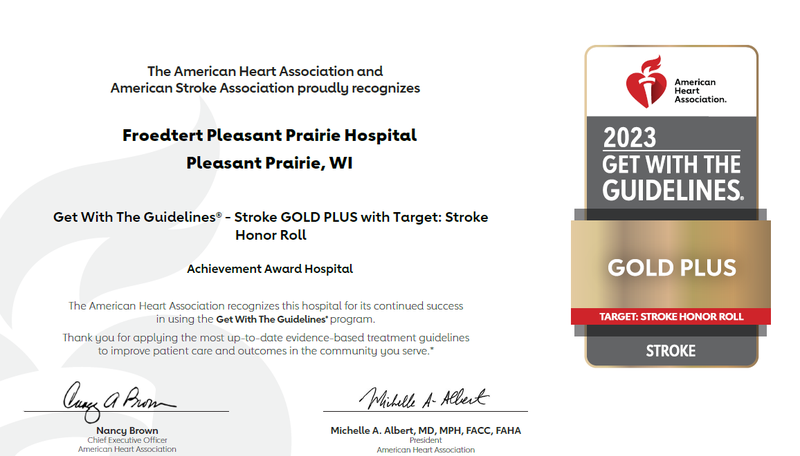 Location(s)
Froedtert Pleasant Prairie Hospital
9555 76th Street
Pleasant Prairie, WI 53158
Get Directions
Stroke Care Services
When it comes to stroke care, every second counts. We offer leading cardiovascular and neurovascular expertise from facilities conveniently located throughout our community, so you can always access the level of stroke care you need from our Advanced Primary Stroke programs, close to home.