Whether a patient has a broken bone from a car accident or musculoskeletal damage from a degenerative disease, the Orthopaedic Surgeons at Froedtert South are prepared to provide skilled treatment. Orthopaedic Surgeons use both surgical and nonsurgical methods to treat sports injuries, spine diseases, musculoskeletal trauma, congenital disorders, and more. Dr. Alan Gegenheimer, Froedtert South Medical Group Orthopaedic Surgeon said, "We do a lot of shoulder, hip, and knee joint replacements and rotator cuff repairs, but we are prepared for anything." He continued with confidence and compassion, "If you break it, we will fix it."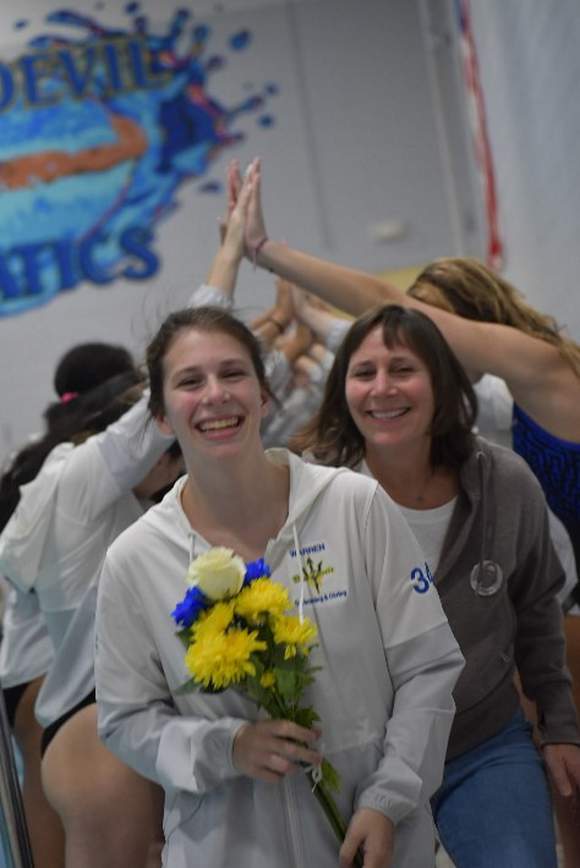 WE BELIEVE IN ATHLETES AFTER INJURY
At 14 years old, Maddie Julius, an avid swimmer and water polo athlete, broke her left clavicle (collar bone) in a car accident. Maddie and her family feared that the broken bone would mean the end of her athletic endeavors. At first, Maddie was told surgical intervention was unnecessary and that the bone would heal naturally. Maddie's mother, Dr. Michelle Gauthier, a Froedtert South Family Practitioner, sought out a second opinion. Wanting an Orthopaedic Surgeon that understands the complexities of healing a bone fracture in a young athlete, Dr. Gauthier brought her daughter to Froedtert South's Prairie Ridge Orthopaedic Clinic.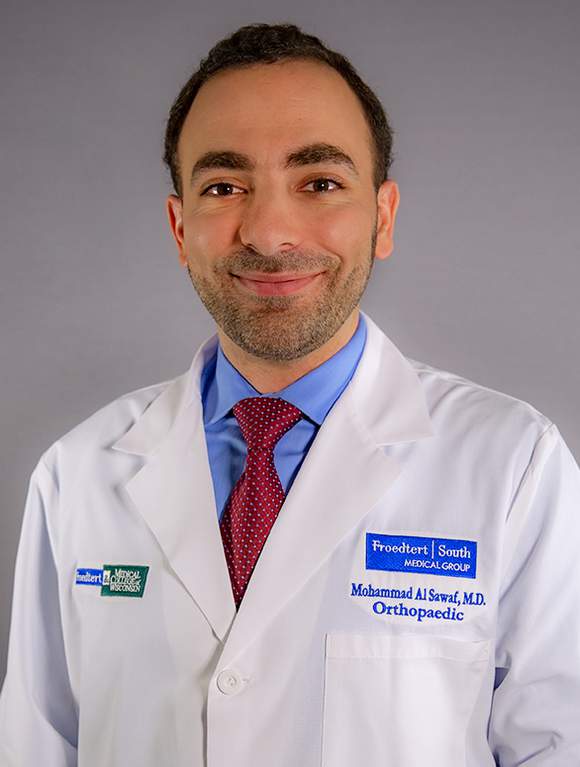 Dr. Mohammad Al Sawaf, Orthopaedic Surgeon, Shoulder and Elbow Specialist, consulted with Maddie and determined that if no intervention was done, Maddie's clavicle would heal improperly. A surgical repair was imperative for Maddie's future capabilities as a swimmer and for her still developing body.
"A bone fracture in a young patient means we must understand how the bone will continue to develop," said Dr. Al Sawaf. "Maddie's bones were still maturing, and she has a specific skill set as an athlete that she wants to regain movement for. I utilized low profile, bone-specific plates for her clavicle fracture. These specialized plates do not have hardware prominence which reduces the necessity for later hardware removal."
"I am grateful that my mom took me to Dr. Al Sawaf," said Maddie. "He recognized the importance of proper, comprehensive treatment for my future ability to enjoy swimming as a lifelong sport. I experienced a quick recovery, and I was able to prepare for sports without any pain. Dr. Al Sawaf's specialized treatment enabled me to heal and grow as an athlete. I have continued to swim and play water polo competitively and have even been able to share my passion for swimming as a swim instructor at the Pleasant Prairie RecPlex."
TEAMWORK MAKES LIFELONG SPORT DREAMS WORK
As Maddie grew and returned to sports, she noticed that her scapula had weakened. She was struggling to attain her preinjury level of coordination. "After Maddie's surgery, nonsurgical methods to manage her care were imperative for her to regain not only her range of motion but also her confidence for performing her activities," said Dr. Al Sawaf. "Musculoskeletal recovery happens over time, and I am still assessing Maddie's progress and consulting with her Physical Therapist to help her heal. I appreciate that I get to see patients long-term as they navigate back to their life and their sport."
The Orthopaedic Surgeons at Froedtert South are part of a collaborative, multi-disciplinary team dedicated to patient recovery. Dr. Al Sawaf said, "We embrace a team approach to get patients back to preinjury level. We have established consistent communication between Orthopaedics and Physical Therapy, and we are conveniently housed in the same building."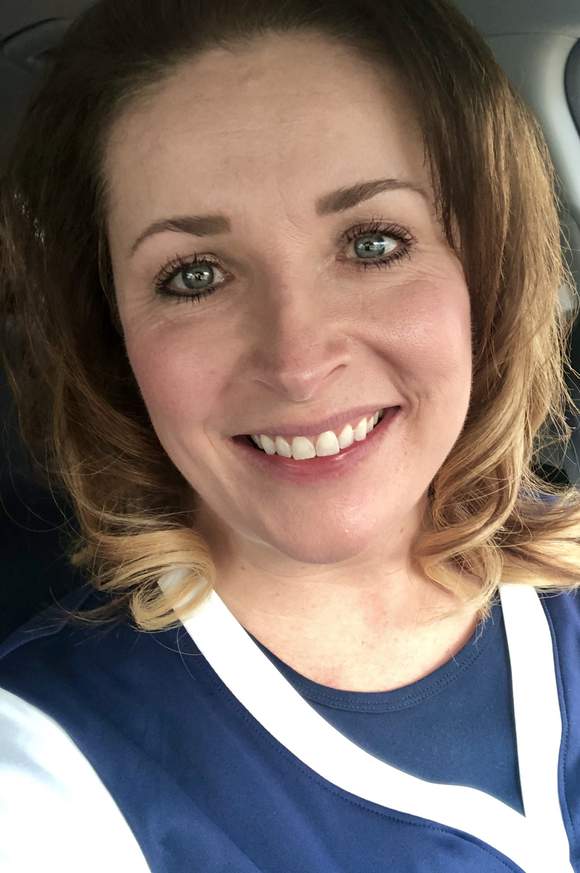 NEW KNEES EQUAL NEW LEASE ON LIFE
For years, Chris Parkman was told that she was too young to get a knee replacement. Chris had enjoyed an active lifestyle of traveling for work and playing softball for fun, but her knees began to bother her. While in her 40s she was diagnosed with osteoarthritis in both knees. Chris worked with her family practitioner to reduce inflammation with medications and injections. Sadly, though, her active lifestyle became merely a memory.
"Something as simple as going to the grocery store became a challenge," said Chris. "I hobbled along hunched over, and I wanted to cry from the pain and for what my life had become. At 52 years old, some people may have thought I was too young for knee replacements, but I knew I was too young to be forced into a sedentary lifestyle because of my knee pain."
Chris was referred to Dr. Alan Gegenheimer, Orthopaedic Surgeon at Froedtert South's Prairie Ridge Orthopaedic Clinic. "Dr. Gegenheimer asked me what my quality of life was," said Chris. "My quality of life was horrible. It had become easier not to move because of the pain. I had lost all my enjoyment in life and had gained weight from being inactive. That one question put it all in perspective. I did not want a wheelchair to be my future. There had to be a better option."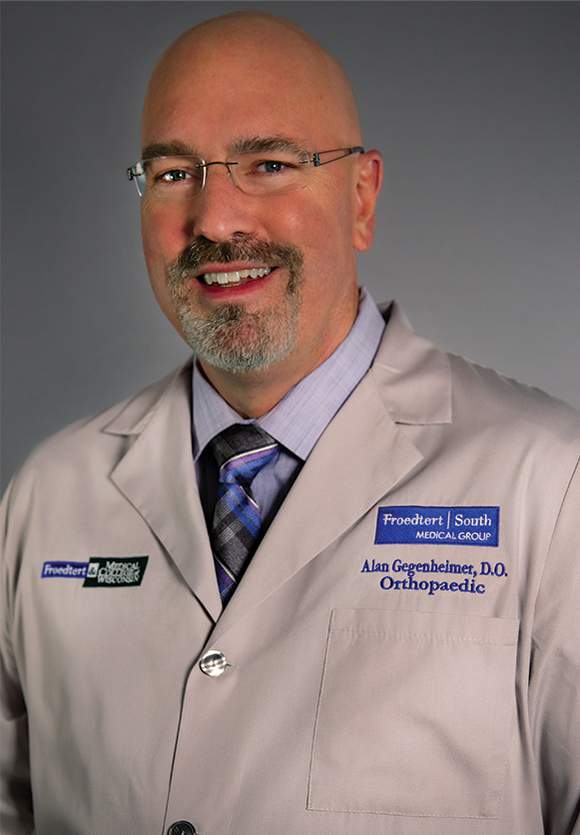 Dr. Gegenheimer completed a partial knee replacement on Chris's left knee, and within six months he performed a complete knee replacement on her right knee. "There are certain circumstances with patients where I can replace just part of the knee. It requires a smaller incision and leads to a quicker recovery," said Dr. Gegenheimer. "For full knee replacements, I offer a unique advancement that no one else in this region is performing. Where traditional knee replacement surgeries cut the ACL (anterior cruciate ligament located in front of the kneecap), I retain a bony island for the ACL to remain intact. Then, I replace the remainder of the knee joint. Preserving a patient's ACL is a huge benefit for athletes as well as the average person."
"Dr. Gegenheimer not only put my quality of life into perspective for me, but he also brought quality back to my life. I appreciate the ongoing collaboration between Dr. Gegenheimer and my Physical Therapist. I am so grateful for the team at Froedtert South. I encourage others to not suffer through their joint pain for as long as I did. Get an orthopaedic assessment to learn what your options are," said Chris.
"For patients that want to return to an active lifestyle or athletes wanting to perform at high levels post-surgery, an XR cruciate retaining total knee replacement may be the right option," said Dr. Gegenheimer. "I am happy that I can offer this breakthrough surgery right here, close to home, for our community."
Dr. Al Sawaf said, "Our team of fellowship trained Orthopaedic Surgeons really listens to how a patient's diagnosis impacts their daily lives. We discuss a range of surgical and nonsurgical options with each patient. We love that we can offer our community conveniently located leading edge technology and treatments."
Back to Article List