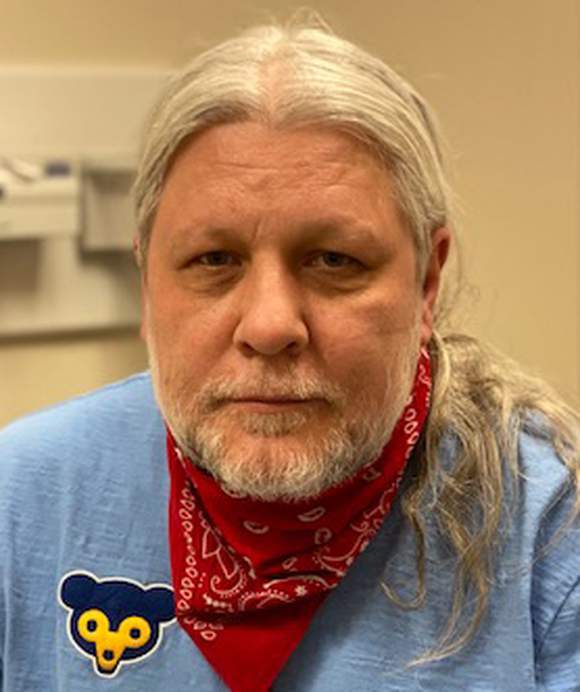 "At least a million." That's how many times 55-year-old Walter Verbick of Kenosha guesses he has shoveled snow off his sidewalks. But last December 30th was different. "I just felt out of breath and my chest hurt," recalled Walter. "I had an idea of what it was, but I thought that couldn't happen to me." Walter took a break from shoveling, went inside and rested. But that didn't help. "The pain wasn't changing," he said, "so I called 911."
That was one smart call. It set in motion a remarkable new program – a partnership between Froedtert South and every paramedic squad in Kenosha County - that will surely save many lives, and help countless heart attack victims live longer and healthier. It's called "Straight-to-Cath".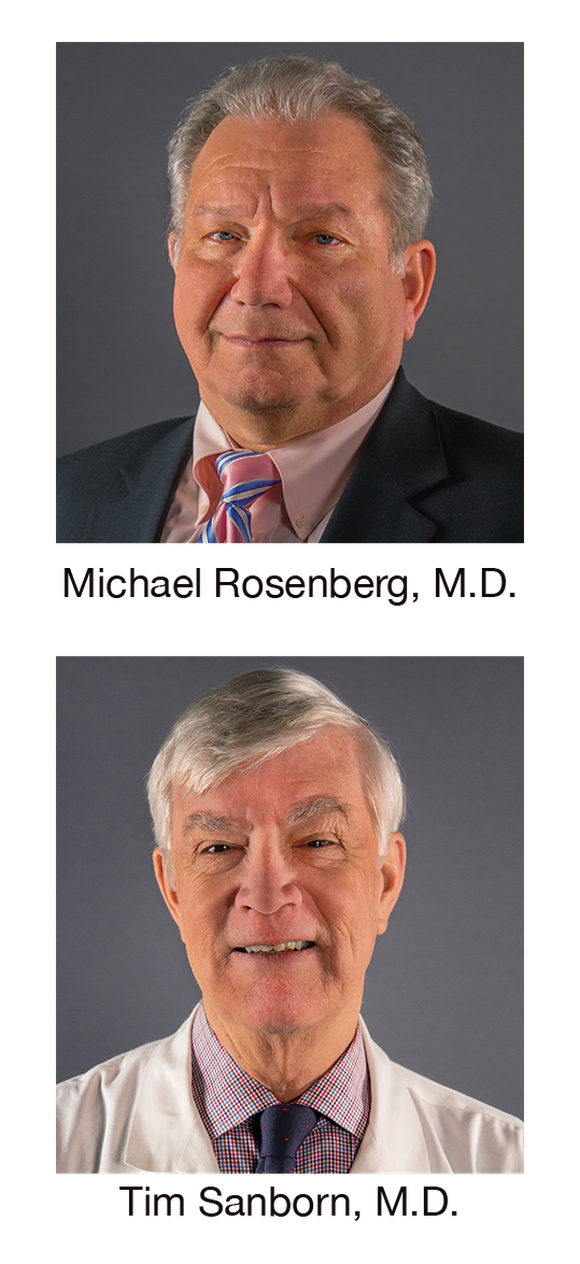 TIME IS MUSCLE
"Cath" is short for catheterization lab - where cardiologists use a thin catheter with a tiny
balloon on the end to open blocked coronary arteries that cause the kind of heart attack Walter was suffering – called a "ST Segment Elevation Myocardial Infarction" or STEMI heart attack. In the past, all heart attack patients were taken to the Emergency Department, where – once it was determined that they were having a STEMI heart attack – they'd be moved to one of the state-of-the-art cath labs as quickly as possible. Straight-to-Cath dramatically accelerates that process.
"Our motto is 'Time is muscle'," said Dr. Michael Rosenberg, a cardiologist with the Froedtert South Medical Group, and a pioneer of the Straight-to-Cath program nationwide. "Every minute that goes by, heart muscle is dying," Dr. Rosenberg said.
"The sooner we open the blocked artery the better," added Dr. Tim Sanborn, a fellow cardiologist with the Froedtert South Medical Group who performed Walter's catheterization. "The quicker we reestablish blood flow," Dr. Sanborn said, "the better the long term heart function and much higher patient survival rate."
To reduce the time it takes to get patients to the cath lab, Froedtert South has teamed up with Emergency Medical Service (EMS) squads throughout Kenosha County to help them identify a STEMI heart attack at a patient's home, workplace, or wherever they are when 911 is called.
In the ambulance, the EMS crew prepares the patient for the catheterization procedure - saving the time it would take to perform those tasks in the hospital. Paramedics also alert the hospital that they're bringing in a STEMI heart attack patient, so cath lab team members – who are in the hospital or on call around the clock every day of the year -- are standing by. At the hospital, paramedics bypass the emergency department and take the patient straight to the cath lab – thus the program's name.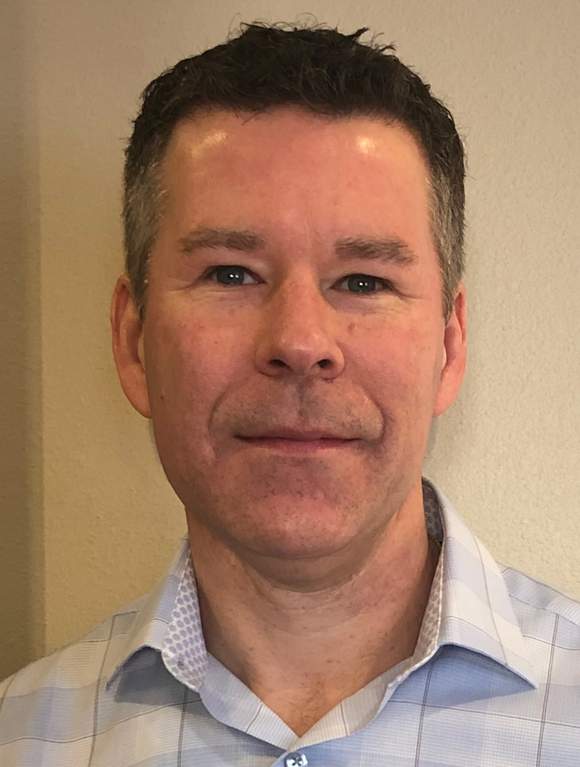 ACCELERATING LIFESAVING CARE
"We're cutting precious minutes off of what we call first contact to balloon time," Dr. Rosenberg said, "meaning the time from when the EMS crew arrives at the scene of the heart attack, until the patient's artery is opened up in the cath lab. And those time savings are making a huge difference for patients."
They certainly made a difference for Walter. "They told me that by doing the prep work on the way to the hospital they'd saved 20 or 30 minutes," Walter said. "Those minutes just might have saved my life."
"The time from when EMS arrived at his home until we had opened the artery in the cath lab was 43 minutes," said Scott McArthey, Senior Director at Froedtert South. "He was having a massive heart attack and in less than an hour his artery was opened up, and he went home the next day feeling fine."
Results like that are why rescue squads fell in love with the Straight-to-Cath program from the start. "We thought, 'This is what's next'," said Jim Poltrock, recently retired EMS Chief of the Kenosha Fire Department. "This is how we can get even better. What we're now doing in
the field helps patients get the life-saving care they need in less time. Working together with Froedtert South to implement this has been very rewarding."
Last November, Froedtert South launched Straight-to-Cath with the Kenosha Fire Department – recipient of four American Heart Association Mission: Lifeline awards for the high standard of care they provide to heart patients. Since then, the program has expanded to all EMS squads in Kenosha County, with further growth planned. "We're already serving the people in our community right here in Kenosha County," Dr. Sanborn said. "And the goal is to expand this into northern Illinois, Walworth County, and Racine County."
"Straight-to-Cath is growing," Dr. Rosenberg added, "because EMS crews really like the program. It empowers them to apply more of their knowledge and abilities in these situations. We want them to get credit they deserve for dramatically improving outcomes for heart attack patients."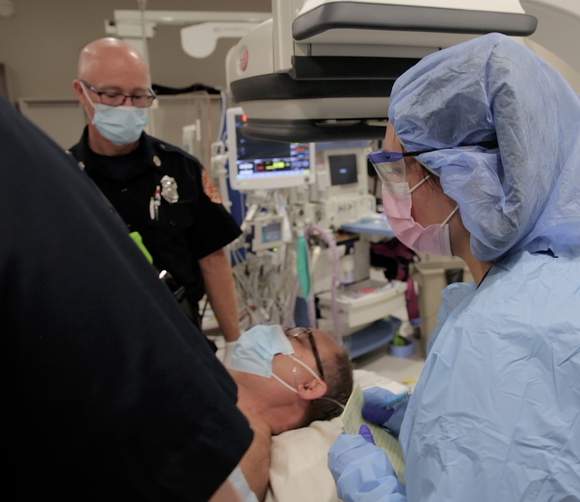 JUST CALL 911
EMS crews who bring patients straight to the cath lab are invited to stay and watch the catheterization procedure.
"Within ten minutes that artery is wide open," Dr. Rosenberg said, "the patient is waking up, and they are going to survive. It's a wonderful feeling. It makes the EMS crew feel like part of our team, not just a transport crew."
"It's a great way to celebrate a job well done," retired EMS Chief Poltrock said. "To be able to see that is awesome."
"It's just fantastic what we can do for patients," said McArthey, "but one important message to the whole community is this: call 911. It's by far the best thing you can do if you're having chest pain."
"Don't drive yourself, or have your spouse bring you in," Dr. Sanborn added. "Paramedics get right to you with the expertise to do lifesaving procedures – and then get you to our cath lab faster than if you just walked into the emergency department."
TOP NOTCH CARDIAC CARE
"Walter's story," said Dr. Rosenberg, "is the perfect example of everything coming together the way we want it to. He was discharged from the hospital within 36 hours, and he was back at work within a couple days."
"They knocked it out of the park for me," Walter said. "You're in good hands at Froedtert South. They'll take care of you."
"This is top notch cardiac care for this community from the start of the call to the cath lab," said retired EMS Chief Poltrock.
"It's one more reason why Froedtert South is rapidly becoming the southeast Wisconsin heart program," Dr. Sanborn added.
Back to Article List