Erick is 34 years old and a trained firefighter. Last December, Erick returned home to Kenosha from Colorado, where he'd been pursuing his dream to fight wildfires. At home with family and friends for the holidays, Erick had no way of knowing that soon he'd be in a fight for his life.
"A couple of days after Christmas," Erick recalled, "I started having chest pains." In the emergency department at Froedtert Kenosha Hospital, doctors discovered the cause. "It turned out I had pneumonia," Erick said, "but when they found the pneumonia, they also found a cancerous mass."
That's when Erick met Dr. David Knight, an oncologist and hematologist with the Froedtert South Medical Group. "It's a rare lymphoma," said Knight. "It does have a relatively good prognosis. It's highly curable, but it's rare enough that the treatment plan is not one that we implement every day. It's fairly complicated."
TEAM APPROACH
To help determine Erick's treatment plan, Dr. Knight worked with Froedtert Pleasant Prairie Hospital's own inhouse expert on cancer drugs: Kaitlyn Hughes, PharmD, an oncology pharmacist.
"Kaitlyn was intimately involved in helping me research the treatment plan - pulling research articles that educate us about the treatment, its effectiveness, the toxicities, how it's given," said Knight. "She and I co-managed the whole process. We also reviewed the case with our Froedtert and the Medical College of Wisconsin colleagues, because of the rarity of the disease, which is always helpful."
SPECIALIZED EXPERTISE
Hughes is one of a relatively small number of full-time oncology pharmacists on staff in Wisconsin hospitals. In addition to her Doctor of Pharmacy degree, a one-year residency in general pharmacy, and her state license, Hughes has specialized expertise with cancer drugs.
"I spent a second additional year of residency where all I did was oncology," Hughes said. "I had oncology experience working with patients in the hospital as well as in the clinic. I also gained experience in precision or personalized medicine, in cardio-oncology, and in investigational drugs, which are drugs that are currently going through clinical trials. So I got a lot of in-depth experience about the drugs and the cancer diseases they treat."
AGGRESSIVE TREATMENT
The treatment plan for Erick was grueling, but effective. Many patients receive outpatient chemotherapy. Not Erick. "I went in Monday through Friday evening, and I got one hundred hours of continuous drug treatment," he said. Erick would then spend two weeks at home recovering from side effects and rebuilding his strength before returning to the hospital for another round of treatment. He repeated this infusion routine six times.
"I couldn't imagine having to do what Erick's had to do," said Andrea Cipolletti, the chemotherapy-qualified registered nurse who administered his drug treatments and helped care for him during his hospitals stays. "We had the easy job," added Cipolletti. "I just gave him his medication. He's the one who had to go through all of that."
"After I got the first treatment is when I realized how hard it was going to be," said Erick. "It will probably be the hardest thing I'll go through in my life."
So far, so good. Erick's cancer is in remission. "Hopefully, I'll be cancer free from now on," he said. "That's the hope that everyone with cancer hopes."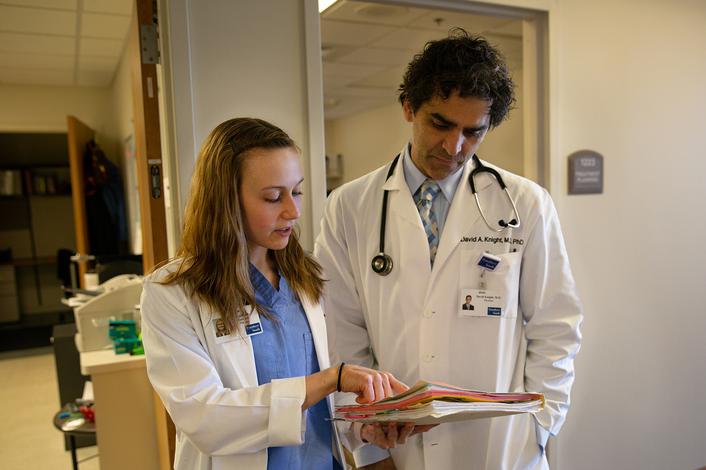 LATEST TREATMENT OPTIONS
Hughes also stays up-to-date with new cancer treatment options. "I keep the information at my fingertips, so I can have in-depth knowledge of those new drugs and help support the staff on how to use them," Hughes said.
"We literally have not just new drugs on a regular basis, but whole new classes of drugs," Dr. Knight said. "Having an oncology pharmacist who is knowledgeable, helpful, and involved with patients brings another level of safety and expertise. And that translates into effective treatments for patients."
Hughes and her pharmacy colleagues often help patients find ways to cover the costs of chemotherapy drugs that can be extraordinarily expensive.
"If a drug is not covered by insurance, we try to find other routes to get it paid for," said Brian Morton, Director of Pharmacy at Froedtert Pleasant Prairie Hospital. "We always do what's best for the patient."
QUALITY OF LIFE
Hughes' work also includes helping ease the discomfort cancer drugs can cause.
"Kaitlyn sometimes gets to see the immediate impact of what she does to help patients," said Christine Smith, Clinical Pharmacy Director, "with someone struggling with side effects that she can immediately address.
That really adds to quality of life for patients." And to Hughes, "quality of life for patients" is what her work is all about. "I live for anything I can do for the patients," Hughes said. "When I sit down with a patient to talk about their treatment, and I can tell they're tense and a little scared, but then they leave with a smile on their face, their head held high, I can tell they feel confident in the treatment they're going to get, and confident in who's treating them. That really satisfies me."
UNIQUE CARE CLOSER TO HOME
"She's meeting with patients in their rooms, educating them about their treatments. She's in and out of my office all day long, coordinating with the nurses, other doctors such as the radiologist, and our physician assistants. It's a very hands-on role that few oncology departments are using day-to-day. That makes our use of her unique. She's literally in the clinic every day," said Dr. Knight.
"The positive attitudes of some people are contagious, and Kaitlyn's is one of them," observed Brian Portilia, Director of Cancer Services at Froedtert Pleasant Prairie Hospital. "She's brilliant, but very real and approachable. She brings energy and expertise to our team."
"The way we've ingrained Kaitlyn's role into our culture has helped us treat cancer patients more effectively," Portilia added.
"It shows that we're going to continue to apply approaches previously seen primarily in larger academic medical systems right here closer to home."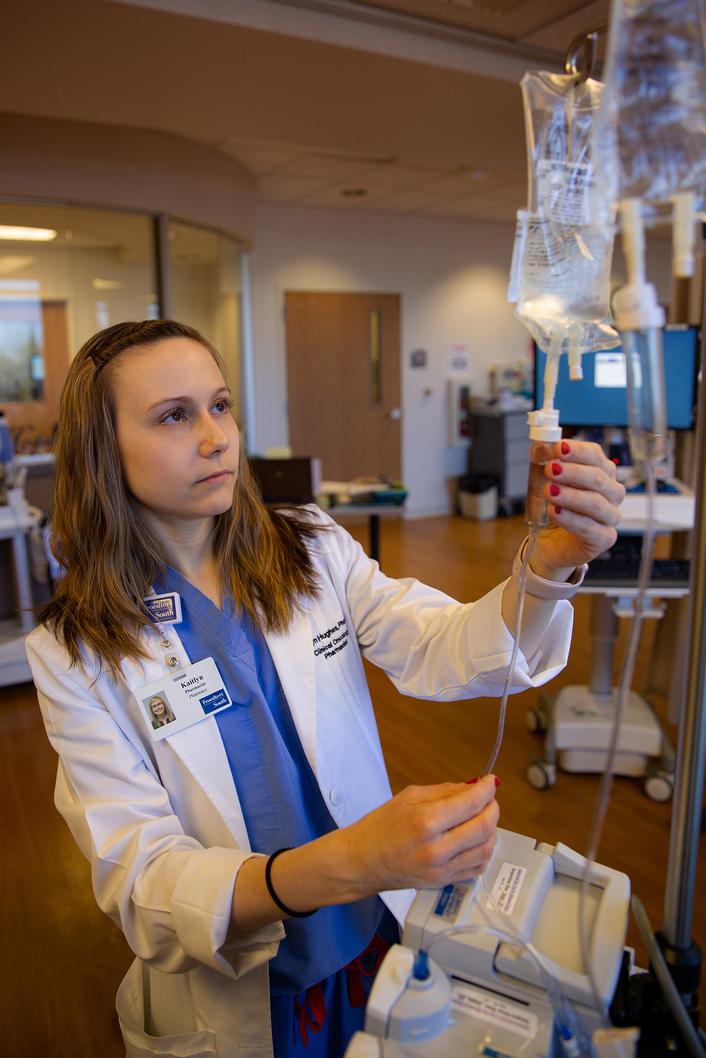 Back to Article List