If you suffer a heart attack, or experience other cardiac issues, the chances are good that you will be examined by an interventional cardiologist, a specialist who diagnoses and treats heart and blood vessel conditions using small, minimally invasive tubes called catheters.
Meet Dr. Amin Rmeileh, D.O., one of the newest interventional cardiologists at Froedtert South.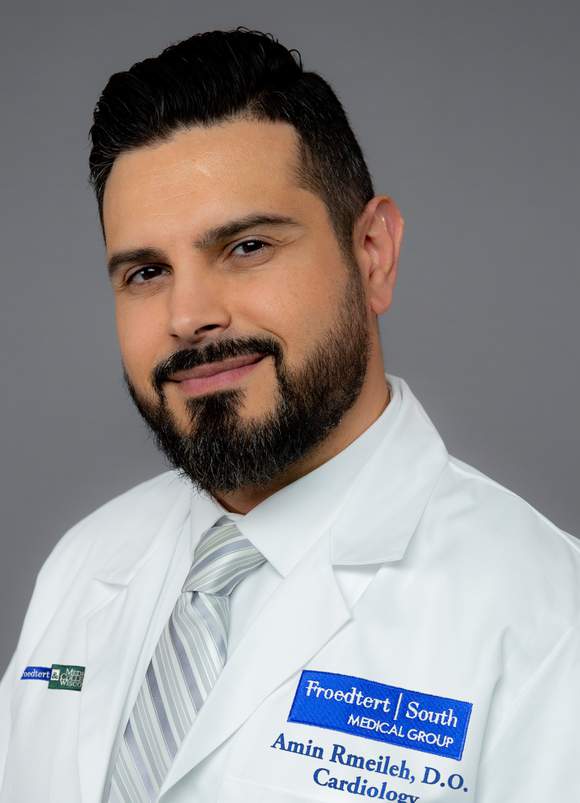 What made you want to become a physician?
Both my parents are OB/GYNs in an area with a lot of under-served people. They gave a lot to their patients. At sixty-six years old, my mom is still practicing and delivering babies, sometimes in the middle of the night, and sometimes for patients who are unable to pay her.
Seeing that as I grew up is what attracted me to medicine. Becoming a doctor was the only thing I thought of. I volunteered at the clinics or hospitals, and medicine just clicked with me.
I thought I would specialize in OB/GYN, but in medical school I discovered a passion for cardiology, so I switched to study and train to become an interventional cardiologist.
How do you help your patients?
When someone who doesn't know me asks what I do I tell them I fix broken hearts.
I have a lot of experience with patients who have high-risk coronary heart disease – conditions that require an endovascular procedure to treat blockages in blood vessels in and around their heart – but also in their legs, arms, or someplace else in their body.
For example, a woman came into our emergency department late at night with a cold leg. I was on call and came in to see her. I found that all the major arteries in her pelvis that supplied blood to her leg were blocked with blood clots. It took more than three hours to perform a minimally invasive procedure to clear out all those blood clots and put stents in place to keep the blood vessels open.
The procedure was a total success. The woman went home a few days later with one tiny hole in her arm, and another in her groin. She was up and walking right away. The patient was very, very grateful. She knew there was a chance she might lose her leg, but we were able to treat her condition quickly and successfully. That's our goal: perform the right procedure immediately, to get patients home and back on their feet as quickly as possible.
Another physician might have referred this patient to a surgeon who would have performed open surgery on her leg, or to another hospital in Milwaukee or Chicago. But I have a lot of experience performing these kinds of procedures right here, close to home for patients in our communities.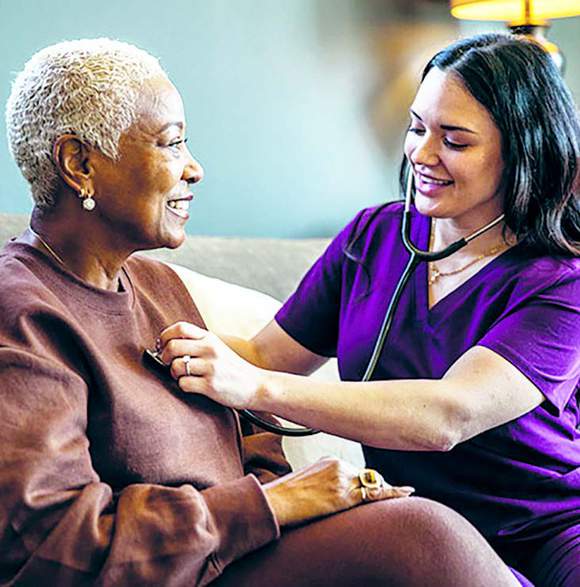 How do you approach patient care?
I spend time with patients to involve them in the decisions about their heart care. I don't wear a traditional doctor's white coat very often – just a coat and tie and my stethoscope. I want to remove any barriers so patients can talk with me like they would with anyone else.
I also want patients to see three "A's" in me:
That I'm available whenever they need me
That I'm able to do what it takes to diagnose and treat them
And that I'm affable -- I'm someone they like to be around.
When a patient's test results are good, I don't tell them that their ejection fraction is positive, or their left ventricular function is satisfactory. Those things don't mean much to most patients. Instead, I tell them their heart is strong. If they have a minor issue, I make sure they know it's not a significant problem. Words matter to patients, and I want patients to feel encouraged, not terrified.
What leading edge cardio care tools are you using?
I'm very excited about a new technology we're beginning to use with patients who have irregular heartbeats such as atrial fibrillation – commonly known as A-fib. To help prevent strokes caused by blood clots, these patients often must be on blood thinners for many years, but the blood thinners can also increase their risk of unwanted bleeding.
Our new technology – called Watchman – will help us lower their risk of blood clots and, in many cases, get patients off blood thinners faster.
When you're not treating patients, what do you like to do?
I'm fully dedicated to my patients and our work at Froedtert South, but when I'm not working, I'm spending time with my family: my wife and our three-year-old son. We may go to the park near our home in Somers, or get together with family or friends who live in Chicago – just spending the weekends together is important to us.
What do you like most about your work?
I love the collaboration we have among the cardiac specialists at Froedtert South. We often bounce ideas off each other to find the right diagnosis and the right treatment plan for each patient we see.
Of course, I get great personal satisfaction when a procedure is successful. I don't give up, especially on patients with difficult problems. I want every patient to get the best shot at recovery by making sure they have every option to help them get better. If it were my family member, I would want the physician to do everything possible to help them recover.
That's what I do.
Back to Article List