Emergency Medicine Services
When minutes matter, we offer expert care and comfort for patients and their families during stressful times. From our board-certified physicians and staff, the entire care pathway is integrated, and patient centered, designed to optimize health outcomes.
Contact Us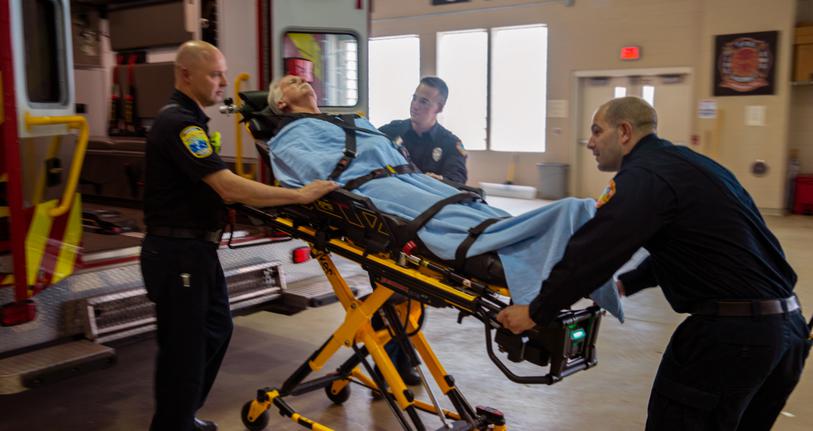 The best care is here for you no matter what. Our wide range of emergency care services ensures residents can rely on experienced, board-certified emergency care providers, 24 hours a day, seven days a week.
To protect our patients and care providers from possible exposure to COVID-19, we are limiting visitors to emergency room patients, except in the case of pediatric patients or patients with essential caregivers.
Our emergency rooms are open around the clock and are located at:
Froedtert Kenosha Hospital 
6308 Eighth Avenue
Kenosha, WI 53143
(262) 656-2202
Froedtert Pleasant Prairie Hospital  
9555 76th Street
Pleasant Prairie, WI 53158
(262) 577-8202
In the event of an emergency, every second counts. That's why we offer constant, emergency access even to specialty physicians and procedures. Anesthesiology, cardiac surgery, critical care medicine, heart care, neurosurgery, orthopedic surgery, plastic surgery, radiology, stroke care, thoracic surgery, and trauma care services, to name a few, can all be provided at a moment's notice. From emergency assessments and resuscitation to surgery, intensive care and stabilization, we are here to quickly diagnose and treat your emergency and see you through to a safe recovery.
Our special relationship with emergency medicine services and field paramedics allows our team to treat many emergencies – including heart attacks and strokes – with minimal response time. We also offer the county's only 24/7 heart program, providing everything from diagnostic EKGs and stress tests to emergency cardiac catheterizations and robotic, minimally invasive, and traditional heart surgery. Our designations as an Advanced Primary Stroke Center and as a trauma center for Wisconsin and Illinois keeps us prepared to treat your emergency as our own and follow through on our commitment to the best possible outcomes.
What to Expect from the Emergency Department
Arrival
Upon arrival at either Froedtert Pleasant Prairie Hospital or Froedtert Kenosha Hospital emergency department, a specially trained nurse will check your vital signs, evaluate your condition and ask about your health history.
After providing some basic information about yourself, you may be asked to wait in the waiting room.
Waiting
Wait times vary depending on how busy the department is at the time you arrive and the number of patients whose conditions are more serious than yours. Our team does its best to keep you comfortable and your wait to a minimum.
If your condition changes as you wait, we ask that you inform emergency department staff immediately.
Examination
A staff member will call you into the department to reassess your condition through a series of questions and examinations and discuss your problem and any tests or treatments that may be required. Feel free to ask questions about your illness and your treatment at that – or any – time.
Leaving
When you are discharged from the emergency department or the hospital, you will be given recommendations for follow-up care that may include:
Instruction sheets
Drugs or prescriptions
Appointments for further tests
Appointments with doctors
Certificates – if appropriate, please make sure that you have any medical certificates, Work Cover or Transport Accident Commission (TAC) certificates, and any other information that you need completed before leaving the hospital.
Discharge instructions will be reviewed with you before you leave. You will also receive a written copy to take home. Please ask questions if you do not understand the instructions.
As a patient, you are responsible for arranging a follow-up appointment with your primary health care provider or the physician recommended by one of our staff members.
Emergency Care Checklist
To help our care providers quickly and effectively assess and treat you, it's important that you honestly disclose important details about your health history, including:
Any health problems you have or have had in the past
All drugs and treatments you are using
Allergies
Any recent trips overseas
If you are pregnant or breastfeeding
Any other facts the providers should know about, including if you have recently had surgery or other care at a hospital
If possible, it is also helpful to provide an accurate list of any current medications and doses.
If your condition is more serious or requires special care that cannot be immediately provided by our emergency care providers, you may be admitted into the hospital or referred for other treatment options.
Bill Payments
It is your responsibility to check with your insurance plan for emergency care coverage, as well as for coverage for any recommended follow-up care.
You may get more than one bill for the services you receive in the emergency department. Bills are based on the treatments that were performed and the supplies that were used in your emergency care.
Location(s)
Froedtert Pleasant Prairie Hospital
9555 76th Street
Pleasant Prairie, WI 53158
Get Directions
Froedtert Kenosha Hospital
6308 Eighth Avenue
Kenosha, WI 53143
Get Directions
FAQ
Patients with life-threatening conditions such as a stroke or heart attack are treated first. The length of your stay may depend on your symptoms, illness and whether you have to be admitted to the hospital. Once in the treatment area, average stays are approximately three hours for patients who are then released directly and five hours for patients who are admitted to the hospital. If your condition requires special consultation, tests or X-rays, your stay may be longer.
To accurately diagnose your condition, we may need time to perform, process and review lab tests and X-rays. Most of these take approximately two hours, but some take longer.
If the emergency team believes it is the best way to help you, we will consult with your primary care or other physician to recommend that you be admitted to hospital. As your admission was unplanned and thus unscheduled, it may take extra time to prepare the most appropriate hospital bed for your condition. In some cases, the emergency staff may need to transfer you to another hospital for treatment, in which case the emergency team will continue to care for you until you are transferred.
Your health is important to us, so even if you feel better, we want you to stay and be seen by a doctor so we can make sure your medical needs are met. If you choose to leave the emergency department without being seen by a provider or against medical advice, your insurance company may not cover your visit. It is important to let the staff know if you choose to leave.
To protect our patients and care providers from possible exposure to COVID-19, we are limiting visitors to emergency room patients, except in the case of pediatric patients or patients with essential caregivers.
Family members or friends are welcome to stay in the treatment area or in the lobby, subject to any visiting restrictions that may be in place for a variety of reasons. For the privacy and safety of all patients, the number of visitors if allowed must be kept to no more than two people per room. This helps staff to perform their duties quickly, ensure infection control, safety and security and allows us to meet the needs of other patients with a respect for their privacy as well as yours. Depending on your condition, it may be necessary for a nurse or doctor to ask friends and family to return to the waiting room.
Visitors are required to wear visitor passes when entering the emergency department. It's important for visitors to respect the privacy of all patients, be as quiet as possible and not stand near other patient treatment rooms. To protect patient confidentiality, we ask visitors not to wait in hallways.
Foreign language and sign language interpreters are available upon request. While an interpreter is being arranged, family members may be asked to assist.
We discourage the use of cell phones due to interference with the timeliness of your care and the risk of violation of privacy from overheard conversations. However, if this is the only means for you to communicate with family while in the Emergency Department, we ask that you minimize the time on the phone and ask the family member you call to reach out to any other family members who need to know of your situation. Cell phones may be used in the waiting area. Local calls can also be made, free of charge, using the courtesy telephone located in the emergency department lobby or brought to you in your room by a staff member. Dial "9" first to be connected to an outside line.
We advise patients not to eat or drink anything without first consulting with a nurse. Visitors must consume all food and beverages in the lobby area. Visitors may use the hospital cafeteria located on the first floor of our hospitals. Vending machines are located on the first floor near the hospital cafeteria.
Froedtert South has established a code of behavior to ensure a safe and friendly environment for patients, visitors and staff. We do not tolerate violence, swearing, threats or verbal abuse towards patients, relatives or staff. If the behavior carries on after an initial warning, staff, security or the police will ask the offender to leave.
We welcome inquiries about patients. We ask that just one person call the hospital to get information and then pass it along to other family members and friends. We care about keeping loved ones informed but aim to keep patients our top priority.
Froedtert Kenosha Hospital 262.656.2202
Froedtert Pleasant Prairie Hospital 262.577.8202
Phone Numbers
Froedtert Kenosha Hospital Emergency Medicine

262.656.2202

.

Froedtert Pleasant Prairie Hospital Emergency Medicine

262.577.8202

.