Radiation Oncology Treatment
To make cancer treatment and recovery as peaceful and painless as possible, we offer some of the most advanced radiation treatments available, certified at the highest level of quality and patient safety.
Call to Schedule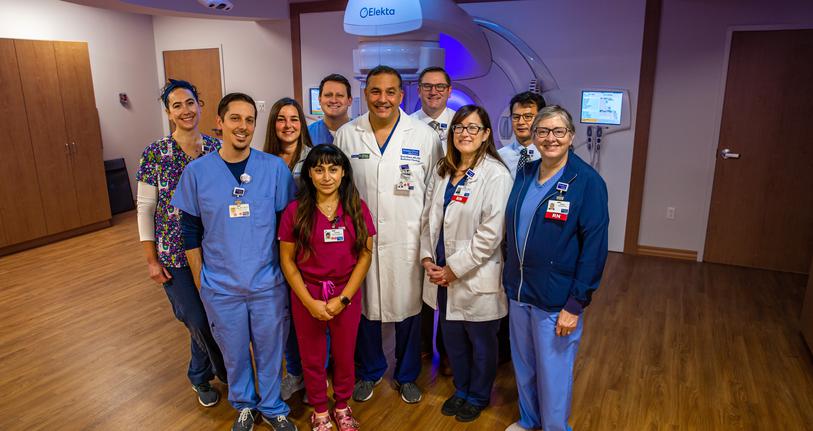 Approximately half of all cancer patients will require radiation therapy at some point in their steps to recovery. Accordingly, Froedtert South received APEx certification as the highest level of recognition for quality and patient safety within radiation oncology practices.

We also take pride in making the patient a part of the treatment planning process which is at the forefront of medicine. Our goal is to make patients feel empowered as they embark on the path to recovery.
Your Radiation Therapy Plan
The first step in deciding the role of radiation therapy is to determine where the cancer is, where the cancer may be, and where it is not. This is called staging. Once the staging is complete, the next step is to determine the goals of the patient and the family.

At this point, teamwork with other physicians is critical. A treatment plan needs to be developed in a way that all cancer specialists for that particular malignancy are in agreement. We have a wide array of specialists both in Kenosha and Milwaukee through the Froedtert and Medical College of Wisconsin Cancer Network.

Another key element is to develop a cancer treatment plan over a time horizon of days in order to avoid unnecessary delay. That is why we see patients in consultation on average 2 to 3 days after a referral has been requested. We then incorporate modern approaches in collaboration with other physician specialists such as virtual tumor boards. In these settings advanced physicians super-specialized for a particular disease review the biopsy, images, and findings to arrive at patient oriented next best steps. Radiation therapy is then applied using the most modern approaches and techniques in a way that is consistent with the philosophies of an entire team of advanced specialists.
Conditions We Treat
Areas of Specialty
Lung Cancer
Breast Cancer
Prostate Cancer
Rectal Cancer
Skin Cancer
Brain Tumors
Esophageal Cancer
Pancreatic Cancer
Endometrial Cancer
Cervical Cancer
Bladder Cancer
Liver Tumors
Sarcoma
Bone and Brain Metastases
Keloids
Heterotopic Bone
Treatments and Procedures
We proudly offer a wide range of advanced radiation therapy treatments and techniques, meeting the highest standards of certification for your safety and satisfaction.
3D and 4D CT scan simulation
PET CT scan simulation
Monaco Treatment Planning System
Image Fusion
IMRT (Intensity Modulated Radiation Therapy)
IGRT (Image Guided Radiation Therapy) using a dedicated CT on rails which is the best image guidance available on the market
Concurrent Chemotherapy and Radiation Therapy
Hypofractionation
Respiratory Gated Radiation Therapy
Prone Breast Radiation Therapy
SIRT (Selective Internal Radiation Therapy with Y90) for liver tumors
Electron Radiation for Skin Cancer
Customized Bolus and Lead Cutouts for Skin Cancer
Prostate Treatment with SpaceOAR
Our Doctors
The Cancer Center is more than a place to practice, that is why our cancer team members call it "home." They care deeply about keeping world-class cancer care available to our neighbors here in southeastern Wisconsin and northern Illinois.
Location(s)
Froedtert Pleasant Prairie Hospital
9555 76th Street
Pleasant Prairie, WI 53158
Get Directions
Radiation Oncology Services
Every cancer patient deserves care that meets the highest quality national standards — no matter where they live. As part of the Froedtert & the Medical College of Wisconsin Cancer Network, we work to offer our community a higher level of care from clinics and facilities close to home.