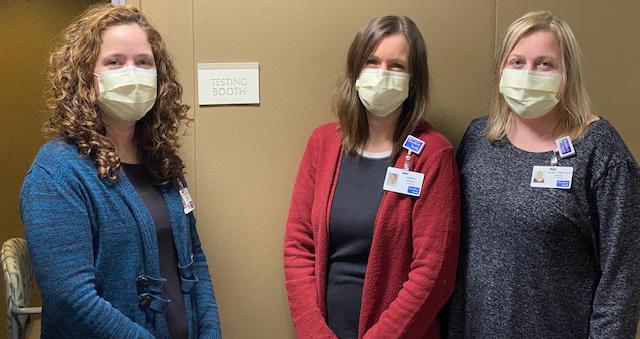 Our Audiology Department specializes in the diagnosis and treatment of hearing, balance, and related disorders. Audiologists not only diagnose and rehabilitate hearing loss, but they also provide professional services for children and adults who are at risk for or who have hearing, balance, and related problems. Typical recommended courses of treatment could be audiologic rehabilitation, hearing assistive technology, hearing aids, digitally modulated (DM) systems, cochlear implants, and alerting devices, depending on your specific needs.
What/Who is an Audiologist?
Audiologists are specialists in hearing who are trained to identify, diagnose, measure and treat hearing disorders and balance problems. Our audiologists hold a Doctorate degree in Audiology (Au.D) and are licensed by the state as Audiologists and members of the American Speech Language & Hearing Association (ASHA). The audiologists may be Fellows of the American Academy of Audiology (AAA), Board Certified in Audiology (ABA), member of the Wisconsin Speech & Hearing Association (WSHA) and licensed in Educational Audiology.

Audiologists at Froedtert South see people of all ages.

Hearing loss is the third most common chronic health problem in seniors, behind hypertension and arthritis. Over 90% of hearing loss relates to a physical condition that cannot be corrected surgically or medically but can be helped with the use of hearing instruments.
Testing can include:
Tympanometry and Immittance Measures
Pure Tone Air Conduction and Bone Conduction
Ultra High Frequency testing
Speech Reception Thresholds
Word Recognition Ability
Otoacoustic Emissions
Speech in Noise Testing
Auditory Brainstem Response Testing
Electronystagmography
Videonystagmography
Auditory Processing Tests
We also help people with hearing loss. Our Audiologists fit hearing aids from the major manufacturers with different technology levels and at many different price points.

We also offer:
Hearing Aids
Hearing aid accessories (wax guards, domes, batteries)
Ear impressions
Hearing protection devices
Assistive listening devices
Location(s)
Somers Clinic
3400 Market Lane
Kenosha, WI 53144
Get Directions