Rehabilitation Services
Even the most disruptive conditions shouldn't prevent you from enjoying life as you've planned it. After treating you, our comprehensive rehabilitation services will get you back to wherever it is you want to be, rather than in a clinic.
Call to Schedule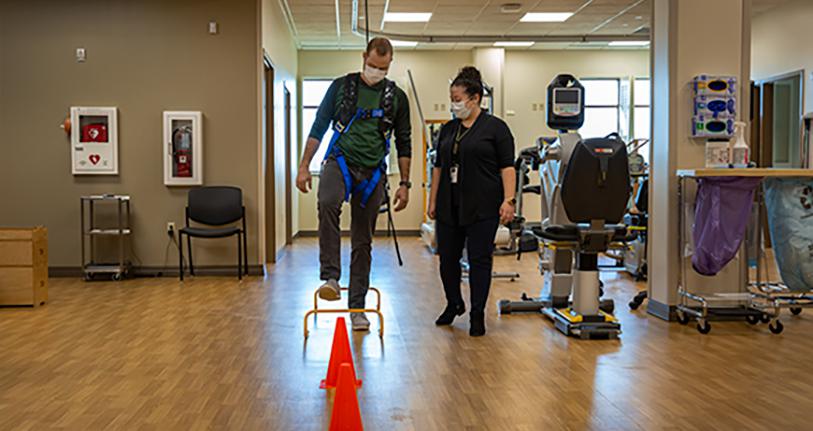 Located close to our physician's offices, our rehabilitation facilities make it easy for everyone in our community to experience seamless care – from inpatient to outpatient – from providers who work closely and collaboratively to aid your recovery. It's a team approach that has your family, friends and local, neighborhood physicians all cheering for your success.
We're committed to serving our neighbors with outstanding teams of audiologists, occupational therapists, physical therapists, manual therapists, speech language pathologists, athletic trainers, and certified strength and conditioning specialists – many of whom participate in our Athletic Trainer Outreach program, supporting high school and collegiate athletes. Our dedication to one-on-one care approach ensures you're always in good hands.
Rehabilitation Services
Rehabilitation is a necessary part of recovery for many conditions and medical needs. We offer a wide range of rehabilitation services, helping support your recovery, close to home.
Aftercare programs
Blood flow restriction therapy
Cupping
Dry needling
Hand therapy
Industrial rehabilitation
Lymphedema
Musculoskeletal and orthopedic rehabilitation
Neuro therapies
Speech language therapy
Sports medicine
Rehabilitation Services
If our experience in providing rehabilitation care has taught us anything, it's that working as a team is the best way to reach our patients' goal. Our interdisciplinary, collaborative approach to rehabilitation helps you get back to life in less time