Cancer Rehabilitation Services
Get stronger, improve your recovery, and restore your physical and mental wellbeing.
Call to Schedule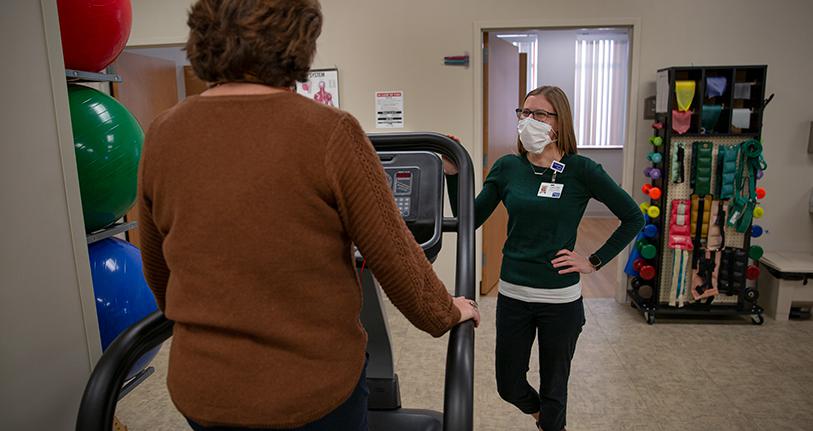 Patients work with a physician-led interdisciplinary team that includes physical therapists, occupational therapists, lymphedema specialists, and speech-language pathologists. All team members are specially trained in and dedicated to working with people who have cancer.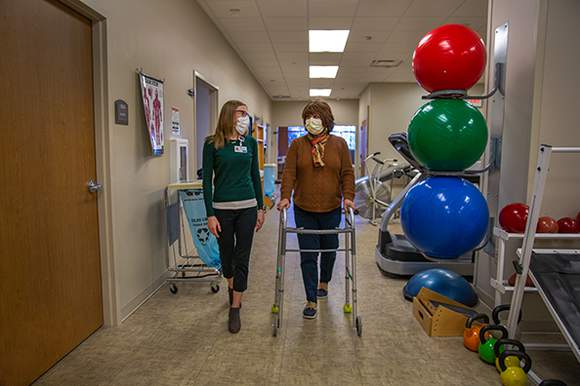 The needs of patients that are addressed by the cancer rehabilitation team include:
Lymphedema
Impairments in daily activities
Nutritional and swallowing problems
Fatigue and weakness       
Cognitive issues secondary to cancer
Evaluation of assistive devices and adaptive equipment
Pain
Gait and balance impairments
Exercise and wellness
What is the CanWin Program?
The "CanWIN" exercise program is a strength and fitness program for people who are receiving cancer treatment or who have recently completed cancer treatment.
Participants in the "CanWIN" exercise program work to develop strength, increase flexibility and endurance, and improve their capacity to perform the activities of daily living. 
The "CanWIN" exercise program may also reduce the severity of cancer side effects, prevent undesired weight changes and improve the participant's energy levels and self-esteem. 
A final goal of the "CanWIN" program is to provide the participant with a personalized exercise program that can have a positive impact on the quality of life.
Lymphedema Services
The Occupational Therapy Department offers a comprehensive lymphedema treatment and management program.  Our lymphedema specialists are trained in the treatment of both upper and lower extremity lymphedema, and will help you develop an individualized program.
Components of the program include lymph drainage massage, compression garments, proper skin care, exercise and education. In addition, a lymphedema specialist works with each patient's primary care physician or oncologist to ensure a continuum of care.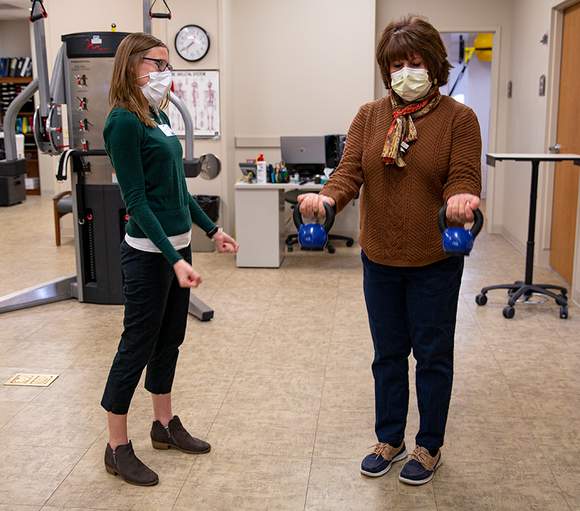 What is the Cancer Rehabilitation Program?
Due to improved cancer interventions, people diagnosed with cancer are receiving successful treatment and are able to return to normal the activities of daily living.
The Cancer Center Rehabilitation Program helps individuals and their families learn to adapt to the effects of cancer and its treatment.  The goal is to improve the quality of life and regain maximum independence throughout the continuum of care.
Cancer Services
Cancer patients deserve care that meets the highest quality national standards — no matter where they live. As part of the Cancer Network with Froedtert & the Medical College of Wisconsin, we work collaboratively to lead the development of new, more effective treatments and provide an even higher level of care, backed by academic medicine, from clinics and facilities close to home.