Many people take little notice of their own feet. Aside from keeping them clean and warm with toenails trimmed or even cutely painted, your feet can largely go unnoticed; until they hurt. A problem or pain in your feet can wreak havoc on your quality of life. When living with a foot or ankle injury or wound, what were once carefree steps can quickly become the painful focal point of daily life.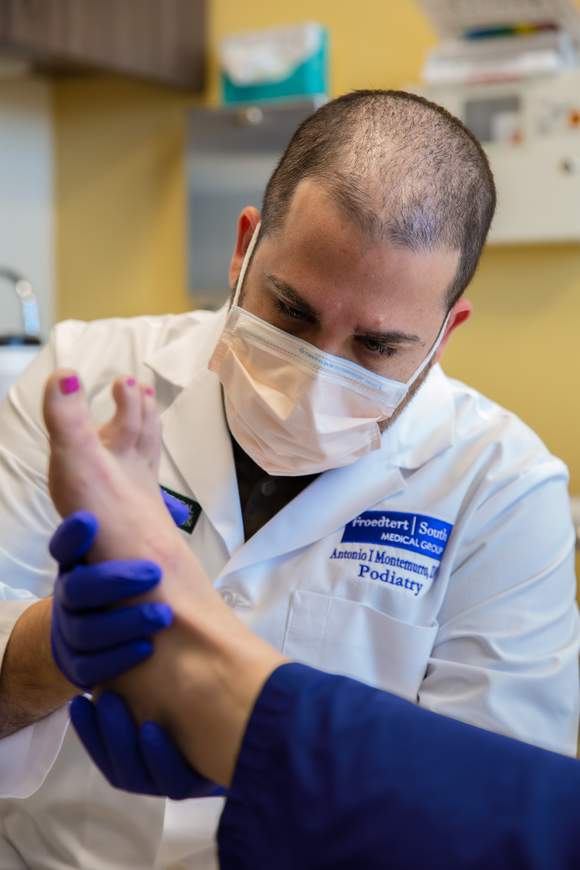 LIVING WITHOUT PAIN IS POSSIBLE
Living with painful steps or sore feet does not need to become part of someone's new lifestyle. Finding a solution and relief from ankle or foot pain is possible. At Froedtert Pleasant Prairie Hospital and Prairie Ridge Clinic, Dr. Antonio Montemurro and Dr. Ryan Holmbeck provide our community with a wide range of advanced Podiatry care.
"We want the community to know that they can live without foot or ankle pain, and they do not have to go to Chicago for these services. Dr. Holmbeck and I completed the longest, most advanced training available in Podiatry Medicine, and we offer the highest level of care right here in Kenosha," said Dr. Montemurro.
Dr. Montemurro and Dr. Holmbeck provide an extensive range of services including nail care, diabetic foot care, bunionectomies, hammer toes, foot and ankle wound care, fungus, wart, and callous care, amputations, Achilles ruptures, ankle fractures, ankle replacements, and even more. "From surgical interventions to orthotic-based treatments, we can provide care for anything foot and ankle-related," said Dr. Holmbeck.
"We exhaust all conservative measures first, such as activity modification, in-office procedures, wound care or cortisone injections," said Dr. Montemurro. "When all conservative methods have been tried, then we approach surgical interventions. We are a one-stop shop for anything below the knee. We want the community to know that this care is accessible, and a specialty referral is unnecessary for scheduling an appointment with us."
TEAMWORK MAKES THE DREAM WORK
Improving the quality of life for others through their Podiatry practice is a dream come true for Dr. Montemurro and Dr. Holmbeck. Relieving the foot or ankle pain for a patient and returning them to a lifestyle of carefree footsteps brings them joy. These two doctors have even more that unites them as a dynamic team. Before they were doctors, Antonio and Ryan were UW-Parkside pre-med classmates. Then, they were podiatry school roommates at Rosalind Franklin University. Dr. Montemurro, from Kenosha, and Dr. Holmbeck, from Burlington, purposefully chose to bring their practices back home and serve the community that they grew up in.
"Our goal was to one day work together," said Dr. Holmbeck. "It took a decade to make that happen, but we accomplished what we set our hearts on."
Dr. Montemurro said, "I began the Podiatry Clinic here at Froedtert Pleasant Prairie Hospital in 2014 with just myself and two support staff. Now, the clinic employs eleven people, and I get to work with one of my best friends. We forged this path for our careers intentionally, and it is a blessing that Dr. Holmbeck and I get to lead this clinic together."
Both doctors live in Kenosha and are each raising three children. From pre-med to parenthood, Dr. Montemurro said, "Our friendship has allowed us to better serve the community. We can rely on each other. Our professional collaboration comes naturally which allows our patients to receive a simple and straightforward second opinion."
"We have invented products that are on the market in our field. We are consultants for other doctors in our specialty. We do surgical interventions together. Dr. Montemurro and I truly are a team, and we are dedicated to our Podiatry practice and to giving the best care to our patients," said Dr. Holmbeck.
Besa Aliji, Froedtert South Medical Group Clinic Coordinator, said, "Our Podiatry Clinic team is amazing. They connect as a team and treat patients like they are family. The positive, collaborative, welcoming family environment these two doctors have created makes this a very special clinic."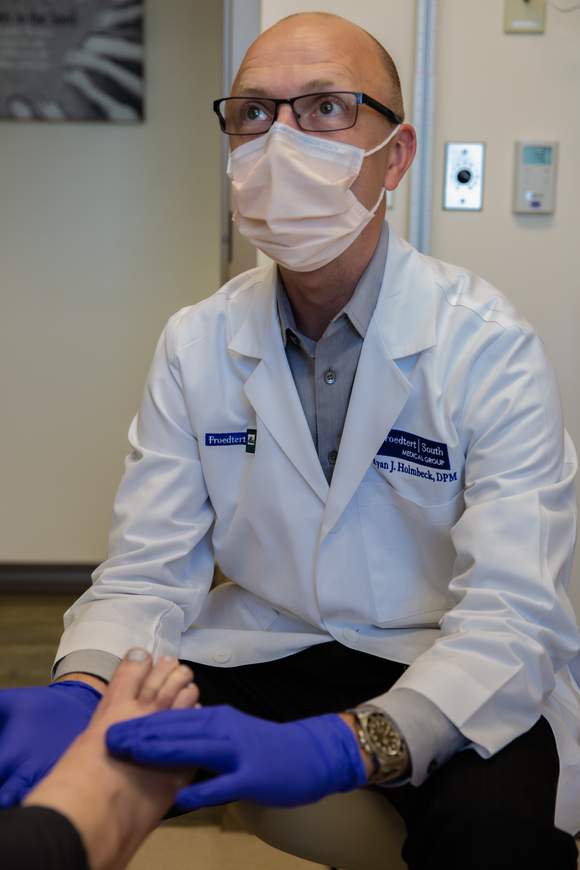 HOPE IS HERE
Community member, Mary Rugg, heard doctors tell her most of her life that they did not know how she was even walking. Her left foot, to put it simply, was not put together in the way a regularly functioning foot would be. Mary said, "If I'm told that I can't, my attitude is always that I'm going to try."
Mary's remarkable determination and resilience kept her walking but with enormous pain and significant difficulty. Eventually, Mary relied on a wheelchair and walker. Then, Dr. Montemurro provided her with healing and hope.
"Mary's foot was severely compromised, and hers was a very difficult case," said Dr. Montemurro. "There were other podiatrists that would not help her, but I knew that she did not need to stay in pain. With extensive research, intensive work, and breakthrough care, relief was possible. I was able to reconstruct her left foot and ankle, and with a substantial recovery time and Mary being a fantastic patient, she is now walking again."
Mary said, "If Dr. Montemurro did not fix my foot, I was going to need it amputated. For nine months prior to surgery, I did the exercises Dr. Montemurro told me to so that I would be strong enough for the procedure. I am shocked at what he accomplished. I feel like I have a new foot, and the miracle is that I'm walking on it! Dr. Montemurro is extremely knowledgeable, detailed, dedicated, and caring."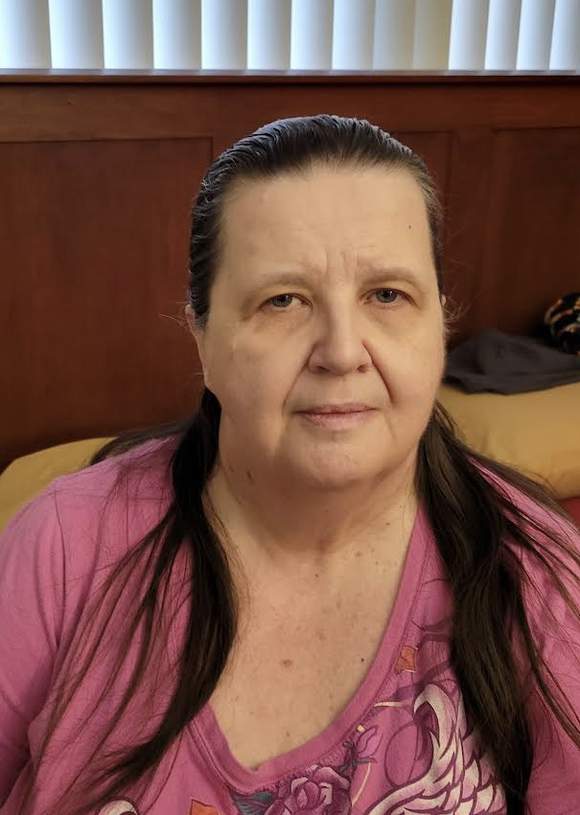 Mary's positive attitude and ability to see the sunshine through any storm, led to a fun post-op scenario. Since Mary was recovering and maneuvering well on her own, she was transferred to a room in maternity. "Since I was in maternity, I thought I should name my new foot that Dr. Montemurro created. I decided on 'Sammy.' When Dr. Montemurro came up to visit me and joked about me being in maternity, I told him, 'Didn't you hear? We had a baby!' The nurse unwrapped my foot and said, 'Hi, Dad.' We all had a good laugh, and 'Sammy' was well cared for throughout our stay."
"With an excellent team, positivity, and laughter, 'Sammy' has completely healed. I did not think I would ever walk again. I could not have wished for a better outcome. I have been blessed with the orthopedic surgeons, podiatrists, and nurses that have cared for me at Froedtert Pleasant Prairie Hospital over the years," said Mary.
Dr. Montemurro said, "What makes our Podiatry Clinic at Froedtert Pleasant Prairie Hospital different is that we treat our patients like family because that is how we view our Kenosha community. For Dr. Holmbeck and me, this is not just a job. We pray with our patients, we respect our patients' time and money, and we eat, sleep, and live Podiatry."
Back to Article List