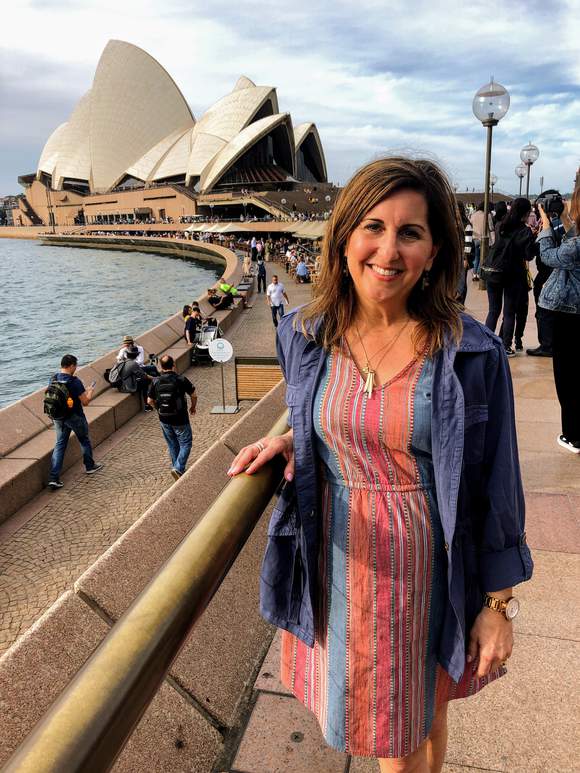 "I was very active," Rita Van Guyse of Pleasant Prairie recalled. "I was exercising and running at one time." But that was all before lower back pain took over Rita's life. "I was in constant pain that occupied my every thought," Rita recalled. "I had shooting pains from the middle to the sides of my lower back, and all the way down my legs."
"I had given up any type of exercise," Rita said. "I could walk, but it was difficult and painful. Too much sitting, lifting, even cooking where I'd bend down to get pots and pans caused pain. Just getting in and out of bed was a chore. I had to think about every single movement to minimize the pain."
Rita knew she needed help, but feared she'd have to travel far from home to get it. "I was thinking that I might need to go to Chicago or Milwaukee to get the best care," Rita said. "But a physician I respected suggested that I see a spine specialist closer to home."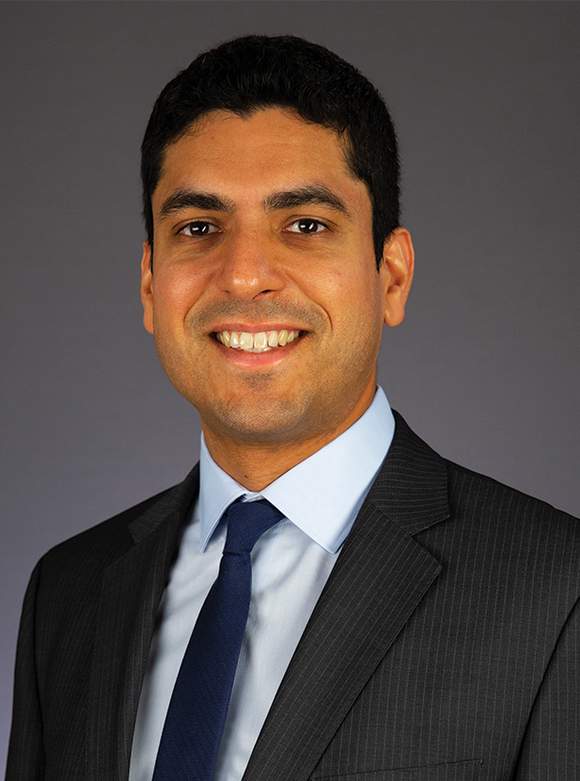 ADVANCED SPINE SURGERY
That specialist was Dr. Neil Bhamb, an orthopedic surgeon with Froedtert South
Orthopedic & Spine Clinic. "I'm practicing medicine here in Kenosha," Dr. Bhamb said, "because I have family in the area, but also to give people here access to the most advanced spine surgery available."
"Right away," Rita said, "Dr. Bhamb diagnosed my problem: a herniated disc that was causing my pain. Then he took the time to fully explain the problem and let me know what he could do about it."
In May of last year, Dr. Bhamb performed minimally-invasive surgery to fix the problem in Rita's back. "With the state-of-the-art surgical tools and techniques we have now, most of the spine surgeries we perform are out-patient," Dr. Bhamb said. "That means less pain and a faster recovery, making surgery an option for many more patients."
"My surgery was first thing in the morning," Rita recalled, "and I was home in the afternoon. I stayed away from my office for a week, but was able to work from home in three to five days. I was surprised; I thought it might be a little longer."
MAKING A DIFFERENCE IN SOMEONE'S LIFE
"Dr. Bhamb treated me like I was his only patient," Rita said. "He's genuine and caring, He was always available for me, and his office staff is very friendly and easy to talk to."
"You can get care anywhere," Dr. Bhamb said, "but here you'll get it from truly caring people who connect with patients. Our surgical facilities and tools are second-to-none, but it's who's using them that's key. I'm giving my patients the best care they can get."
"Anyone who is looking for immediate answers from someone who puts their best interests first and foremost," Rita said, "and who has a good handle on modern technologies and procedures, should see Dr. Bhamb."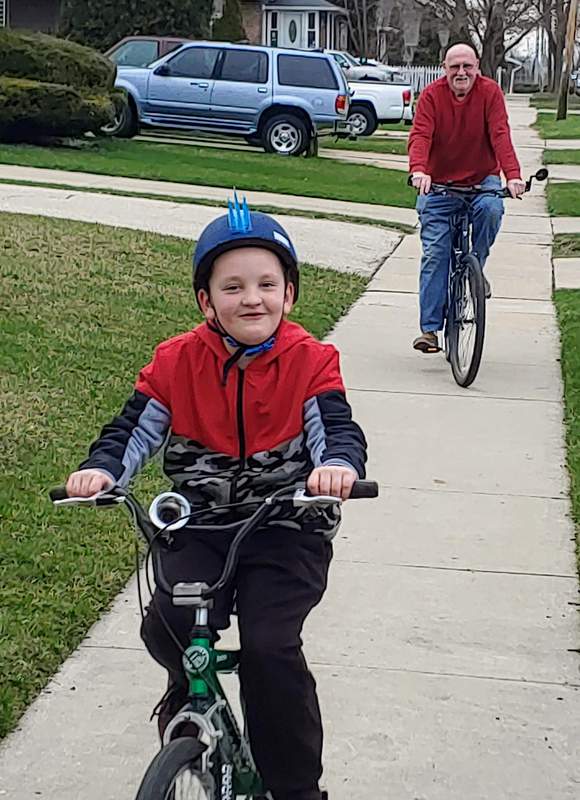 WHAT PATIENTS WANT TO DO
For Ed Bruenning of Kenosha, the problem wasn't with his back; it was the right
shoulder the retired truck driver injured years earlier on the job. "It was fine for a long time," Ed recalled, "but in early 2019, it started acting up again. That's when I went to see Dr. Mohammad Al Sawaf."
Dr. Al Sawaf is an orthopedic surgeon with Froedtert South Orthopedic & Spine Clinic. He's a specialist in reconstructive surgery on elbows and shoulders. "Many of my shoulder patients have significant disability," Dr. Al Sawaf said. "They essentially go from being able to use their arm, to not being able to move it at all."
"When I meet a patient," Dr. Al Sawaf said, "the first question I ask is about what they do. I want to make sure that everything I do helps them get back to doing what they want to do."
"I didn't have much pain," Ed said, "but I couldn't lift anything up past my waist. I could hardly pick up a cup of
coffee. I could still go fishing, but it got to the point where even that was hard. So, I went to see Dr. Al Sawaf. He did the surgery and it was great."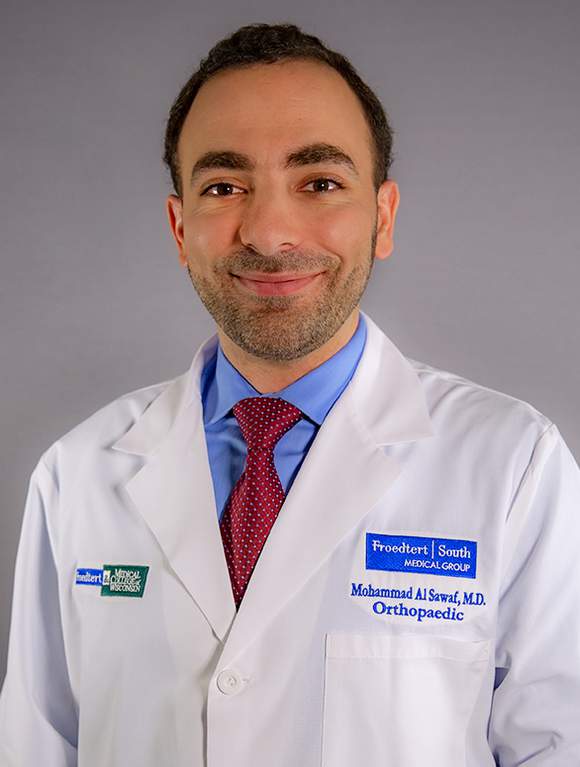 PART OF THE COMMUNITY
In May of last year, Dr. Al Sawaf replaced the joint in Ed's right shoulder – a procedure he might have gone to Milwaukee or Chicago for in the past. "We've advanced to the point where specialized medicine is available right here, close to home," Dr. Al Sawaf said.
"Today people in this community have a specialist right here who treats shoulder and elbow problems every day. I have the expertise to provide the same high level of care a patient might receive in a university hospital. "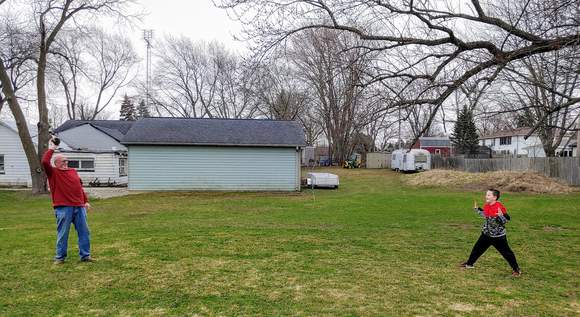 "After the surgery, I never had a bit of pain," Ed said, "and I didn't have to take pain pills. Once I started therapy, I was able to build the shoulder muscle back up pretty quickly, and now I can do just about anything, including playing ball again with my seven-year-old grandson."
"Replacement joints are stronger and more stable today," Dr. Al Sawaf said, "so patients can start their rehab sooner. That's very significant, because they can get back to their work and other activities sooner."
"I think Dr. Al Sawaf is a great surgeon," Ed said. "He and his physician's assistant, Liz, are just great."
"Having our great team of orthopedic specialists together at Froedtert South Orthopedic & Spine Clinic is really critical for patients," Dr. Al Sawaf said. "We work side-by-side and complement each other's strengths. We're a very dedicated team striving to reach way beyond what patients require and need, right here in Kenosha, close to home."
Back to Article List