Physical Therapy Services
We work with you to determine your rehabilitation goals and then devise a personalized treatment plan to restore your level of function and return you to sustainable levels of function and life activities you enjoy as quickly and safely as possible.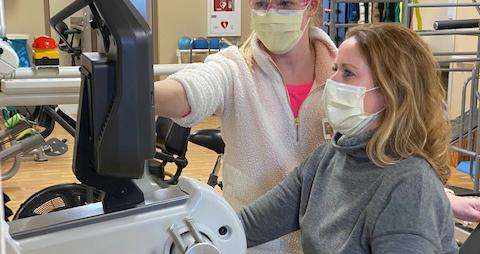 Improving physical performance is a team effort, and a type of care both our patients and providers find particularly rewarding. That's why our physical therapists and athletic trainers work closely with patients and their primary care physicians to enhance your endurance, stabilization, strength and overall activity levels, helping you meet your goals and enjoy a more active lifestyle.
Direct Access Physical Therapy
While most of our physical therapy patients come as referrals from our own community care providers, we also offer direct access physical therapy services, so you can discuss your goals or concerns directly with a licensed physical therapist without obtaining a referral or a prescription from a physician.
Learn More
Physical Therapy Services
No matter your physical condition, we'll find the best way to support you. Our wide range of physical therapy services help patients determine the course of action needed to reduce the long-term effects of injuries and/or improve athletic performance. We provide injury assessment, treatment and rehabilitation to patients of all ages, developing customized exercise programs prior to discharge so you can continue reaching your goals outside of our clinics.
ACL prevention program
After care program
Arthritis program
Athletic performance training
Back program
Ergonomic evaluations
Industrial and work-related injury
Isokinetic testing
Neuromuscular disorder rehabilitation
Orthotic fabrication and fitting
Pre- and post-surgical rehabilitation
Sports medicine and athletic training
Sprain and strain rehabilitation
Vestibular/balance disorders
Video analysis
Physical Therapy Locations
Froedtert South providers practice across a number of clinics throughout our community, making it more convenient for you to get the physical therapy you need, close to home.
Prairie Ridge Clinic
9697 St. Catherine's Drive, Suite 103
Pleasant Prairie, WI
262.577.8141
Somers Clinic
3400 Market Lane, Suite 100
Kenosha, WI
262.551.4700
Froedtert Kenosha Center
6308 8th Avenue, South Clinic
Kenosha, WI
262.656.3270
Froedtert Kenosha Center
6308 8th Avenue, Cardiac and Pulmonary Rehab (Fitness Center)
Kenosha, WI
262.656.2245
Pleasant Prairie Clinic
10256 Old Green Bay Road, West Entrance
Pleasant Prairie, WI
262.551.4990
Physical Therapy Services
From decreased pain and stress to improved athletic performance and increased strength and endurance, physical therapy can help you overcome more than an injury. Our experts provide the care, conditioning, and support you need to enjoy life to its fullest, whether on the court, on the field, or even at home with your loved ones.